Diary - November 2010
John Baez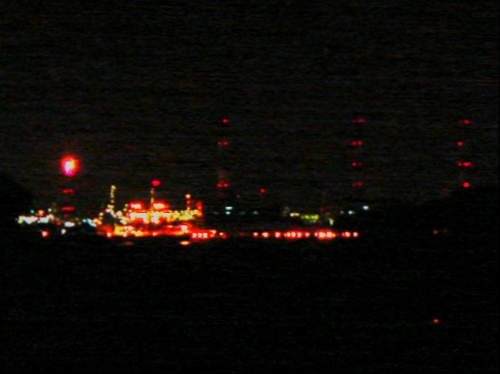 A view from our apartment at night. The flame at left comes from a refinery burning off waste hydrocarbons. The usual three chimneys are visible only thanks to some dim red lights.
Brian Eno has new album out: Small Craft on a Milk Sea. You can hear three tunes from it on his webpage. At least you can now; this may change. My favorite of these three is "Emerald and Stone", and indeed this could be my favorite of all the tunes on this album.

Also: check out the joke interview with Eno on Wired.com. I have to tell you it's a joke, because if you don't know that, you may get disgusted after the first minute and quit listening, like I did the first time.

(Can you see who Dick Flash really is?)
November 15, 2010
A nice improvisation by Brian Eno, Jon Hopkins and Leo Abrahams: Written, Forgotten, Remembered.
November 16, 2010
Last night Lisa and I went to Sia Huat, a really good kitchenware and kitchen appliance store at 9 Temple Street in Chinatown here in Singapore. We took the subway to the Chinatown stop and emerged at Pagoda Street, then walked down to South Bridge Road, went one block south and turned back up Temple Street. I can't believe I hadn't seen this area before! Pagoda Street is really picturesque in a touristic sort of way, lined by lots of small shops and restaurants, with red lanterns hanging all over. There's no pagoda there... the street is named after an impressive Hindu temple whose main entrance is on South Bridge Road, the Sri Marianman Temple. If you're in the vicinity, go and take a look inside!
We bought a bamboo steamer, a metal apparatus for supporting something in a wok, a pair of scissors, and a bunch of glasses. Then we looked for a restaurant. We found a shop that sold Szechuan opera masks, and we bought three, which now decorate our dining room. We asked the shop owner for a good local restaurant, and they told us to try Yum Cha. We went there, but it turned out to specialize in dim sum, not optimal for dinner. So, we looked around a bit more and found a Hunan/Singaporean place called Tang's Restaurant on 53 Temple Street. It's new, so they didn't have many customers, but it was great! Try the pork cooked with coffee... very unusual, very tasty. Also pork with sliced sour long beans, and a bitter melon omelette. Yum!
November 24, 2010
Nurd Kamal mosque, Norilsk
Anatoly Karlin runs a number of very entertaining blogs with a very strong Russian intellectual flavor. He seems like the sort of guy who would completely dominate a conversation with his wit and unorthodox theories, and become utterly unbearable after 2 or 3 fascinating hours. Luckily, with a blog you can take a break whenever you want!
I recommend these articles:
November 25, 2010
Amazing machines, pointed out by Graham Jones:
November 26, 2010
---
All is clouded by desire, Arjuna — as fire by smoke, as a mirror by dust. - Krishna, in the Bhagavad-Gita

© 2010 John Baez
baez@math.removethis.ucr.andthis.edu