Diary - September 2010
John Baez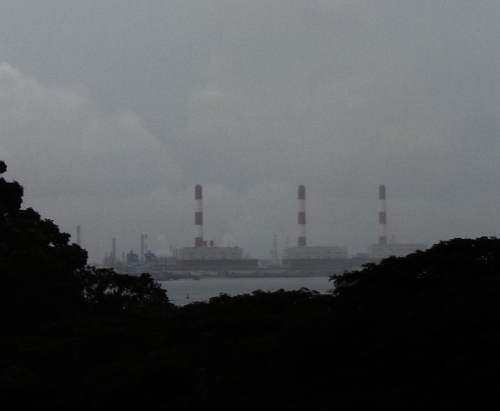 The view outside our window on a foggy morning.
September 5, 2010
Shortly before the end of Ramadan, Lisa and I went to Paya Lebar, a heavily Malay area in eastern Singapore. First we went to a little Chinese temple east of the Singapore Post Centre: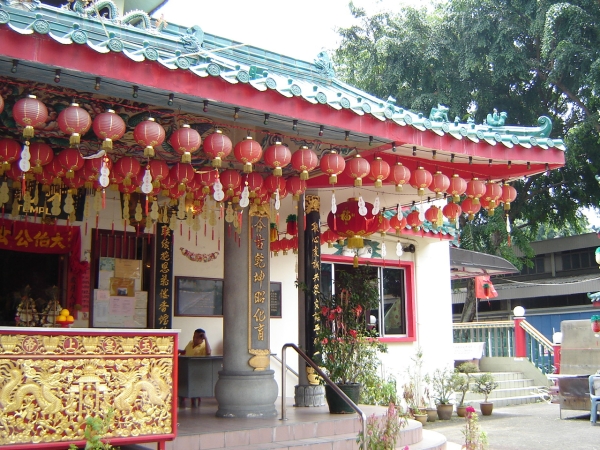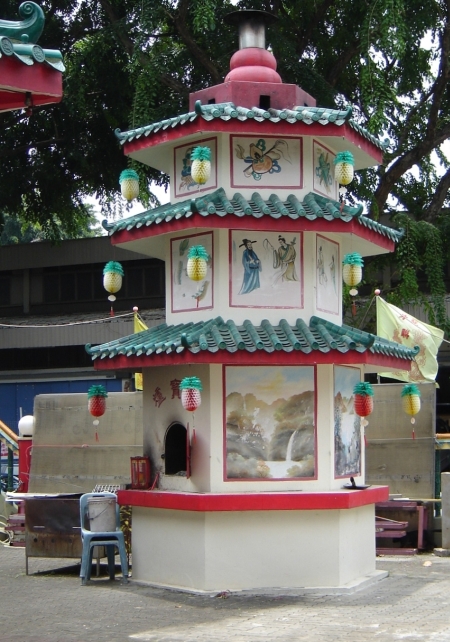 Nothing all that impressive-looking, quite ordinary as temples around here go, but Lisa was interested to see that it was called a "unified" temple, apparently referring to the combination of Taoist and Buddhist aspects. This combination, again, is not unusual, but the explicit designation "unified" was new to her.
Then we went south a bit to a large tented shopping area that's only open during Ramadan. It was packed with stuff to buy.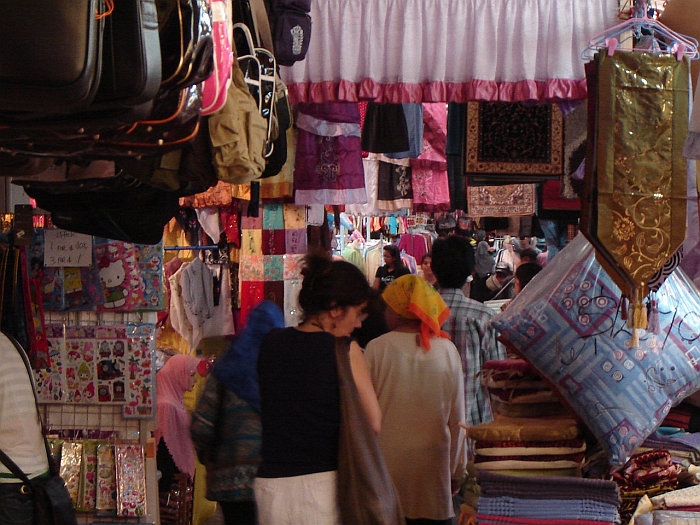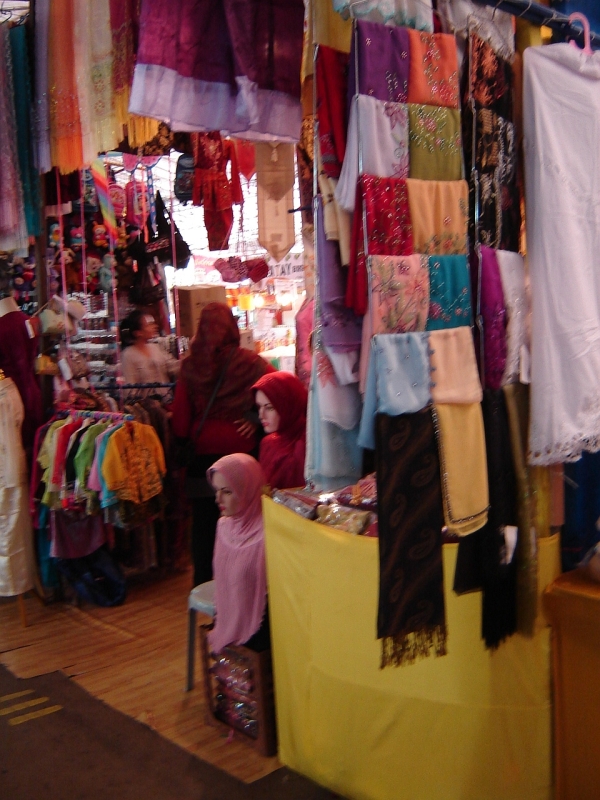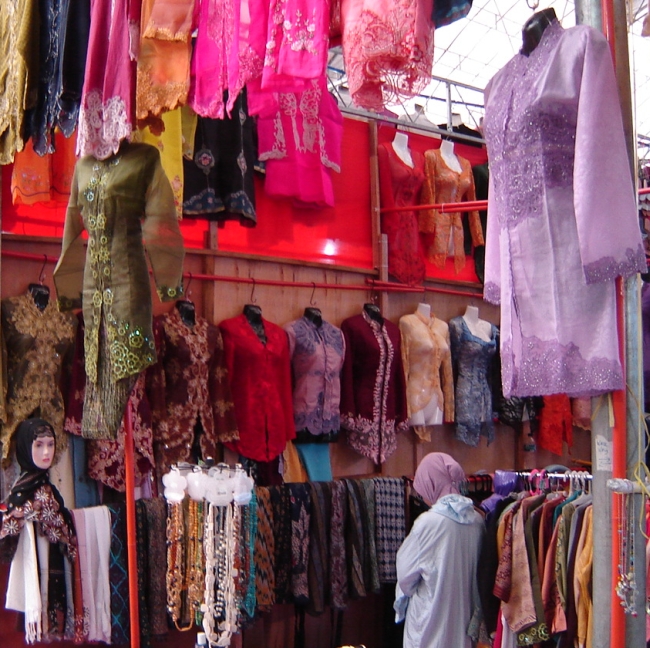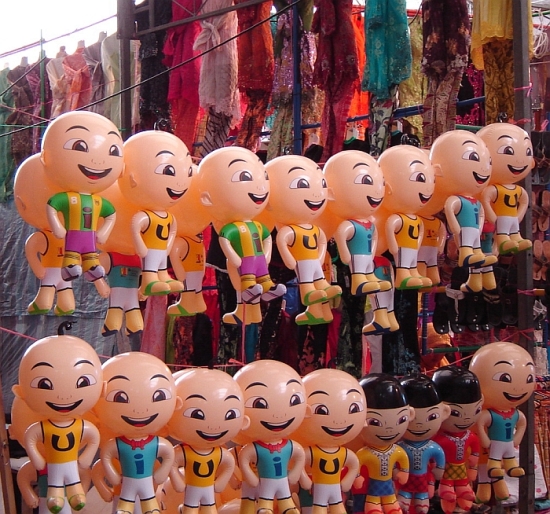 photo by John Goodrich
At one point, there were only 30 Siberian tigers, also known as Amur tigers, left in the wild. Now there are several hundred. Most of them live in the birch forests of eastern Russia, with a few in China and North Korea. Their range is far smaller than it once was. They used to live in many places, including Iraq and Kazakhstan. In their western range they were called the "Caspian tiger". Many were killed by the Russian army in early 20th century.
There's a reason the Russians killed off these tigers. They're fierce!
Yesterday I heard the story of a poacher who made the mistake of shooting a Siberian tiger and wounding it but not killing it:
Give it a listen! Some good lines:
"Imagine a creature that has the agility and appetite of the cat and the mass of an industrial refrigerator."
and:
How high can an Siberian tiger jump?

"As high as it needs to."
Hint: don't tease one if the fence between you and it is only 3.8 meters high. (For you Americans, that's twelve and a half feet.)
The full story is in this book:
John Vaillant, The Tiger: A True Story of Vengeance and Survival, Knopf, New York, 2010.
You can see an excerpt on the NPR website.
The irony, fully brought out in the book, is that this fierce, deadly creature now needs our protection to survive — because we're even more fierce and deadly. We're the biggest kids on the block: it's time to start acting like grownups.
From the book:
One of the many negative effects of perestroika and the reopening of the border between Russia and China has been a surge in tiger poaching. As the economy disintegrated and unemployment spread throughout the 1990s, professional poachers, businessmen, and ordinary citizens alike began taking advantage of the forest's wealth in all its forms. The tigers, because they are so rare and so valuable, have been particularly hard hit: their organs, blood, and bone are much sought after for use in traditional Chinese medicine. Some believe the tiger's whiskers will make them bulletproof and that its powdered bones will soothe their aches and pains. Others believe its penis will make them virile, and there are many . from Tokyo to Moscow . who will pay thousands of dollars for a tiger's skin.

Between 1992 and 1994, approximately one hundred tigers . roughly one quarter of the country's wild population . were killed. Most of them ended up in China. With financial assistance (and pressure) from international conservation agencies, the territorial government created Inspection Tiger in the hope of restoring some semblance of law and order to the forests of Primorye. Armed with guns, cameras, and broad police powers, these teams were charged with intercepting poachers and resolving a steadily increasing number of conflicts between tigers and human beings.

In many ways, Inspection Tiger's mandate resembles that of detectives on a narcotics detail, and so does the risk: the money is big, and the players are often desperate and dangerous individuals. Tigers are similar to drugs in that they are sold by the gram and the kilo, and their value increases according to the refinement of both product and seller. But there are some key differences: tigers can weigh six hundred pounds; they have been hunting large prey, including humans, for two million years; and they have a memory. For these reasons, tigers can be as dangerous to the people trying to protect them as they are to those who would profit from them.
Some good news: in 1986, the Chinese government established a Siberian tiger breeding base at Heilongjiang Northeast Tiger Forest Park. According to the current breeding rate of tigers at the park, the worldwide number of Siberian tigers will break through 1,000 sometime this year!
Even better: Iranian and Russian ecologists are planning a joint project to return Caspian tigers to the wild in Central Asia. They want to do the same for an even more endangered species, the Asiatic cheetah, but some scientists think this is a risky move, since there is no captive breeding population of the Asiatic cheetah.
September 20, 2010
Lisa and I took a trip to Bali — it's a short 2½-hour flight from Singapore. We reached Denpasar airport around 8:40 pm, and took a cab to the Casa Ganesha hotel in the southern part of Ubud, which is the "cultural capital" of Bali. Actually what people call Ubud is a collection of villages, and our hotel was in the village of Pengosakan. It rained on the way there, and indeed it rained intermittently and often heavily throughout our stay. By the time we got back all our clothes and books were moist. On the other hand, it was much less hot than I'd feared it would be. Being in Singapore for a couple months has toughened me up when it comes to tropical weather.
The hotel had a beautiful little courtyard with a fish pond and a statue of Ganesha, the Hindu elephant god, of whom the Balinese seem especially fond. After getting settled in we took a short walk in the wet darkness, just to get a preliminary feel for the place. We went north on Jalan Raya Pengosakan to its intersection with Monkey Forest Road.
The landscape was more gritty and urban than I'd imagined in my romantic fantasies. When choosing a hotel and noting that the Casa Ganesha was a bit south of the main town, I envisioned having to walk to town along a twisting muddy trail next to rice paddies. Instead we walked beside a road lined with shops, restaurants, and the omnipresent spa and massage places that define the Ubud tourist trade. We even saw a Circle K store — something like this (not my photo):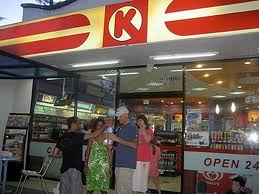 This was a depressingly reminiscent of America, and all that one might hope to leave behind in Bali — but on the other hand, we saw a man setting an offering on little altar in a completely matter-of-fact way, so we knew were someplace new and strange.
The sidewalk, as we later realized, was typical of Ubud: large red concrete slabs, mostly level but sometimes rising or declining at a steep angle, sometimes frighteningly wobbly, punctuated by drains and occaisional gaping holes into dark mysterious depths. Especially on a rainy night, with streetlights infrequent, negotiating such a sidewalk can be a substantial cognitive challenge.
I say all this in part so you don't look at the beautiful pictures to come and get fooled into thinking Bali is an unspoiled oriental paradise. If you think that you could be disappointed, and perhaps even miss its real beauty. I remember going to China the first time — Beijing, to be precise — and being shocked for days at how grimy and dirty it was. None of the tourist brochures prepared me for that! Bali is far more pretty, and the Balinese are esthetic as the Chinese are practical — but most of the people in Bali are dirt poor, so you'll still see plenty of run-down buildings, corrugated steel roofs, chickens pecking around, mangy dogs, grimy and tired-looking women carrying large buckets of black mud on their heads, and so on.
I think a lot of what people see when they travel is a reflection of their own soul. I think that's the only explanation of the drastically different reviews one sees of the same hotels. This is from one review of Casa Ganesha:
Ever stayed in a hotel and thought to yourself, "Why do I have to leave?" I was there only for several days and I was already trying to recreate the Balinese atmosphere when I returned home back to my normal life.

I miss all the delicious goodies the chef conjured up in the kitchen — truly mouth watering dishes. There will definitely be special something in there for everyone and the chef is so nice he doesn't mind to adjust to your taste.

The service there in general was tiptop. They were all so friendly and happy to help with anything — gave me illusions of grandeur thinking I was some kind of god, truly pleased and appreciated.

The establishment was absolutely great, it all seemed custom made and had this strong traditional influence with its cultural architecture, the rooms themselves were very cosy and concise.
And this is from another:
I stayed at this hotel largely based on the reviews of others on this site. I would agree that the staff are friendly and helpful. That's about all I can agree with. The hotel used to be old cheap apartments. A lot of money has been spent to make the gardens look nice but they must have run out of funds to do anything with the rooms other than put in a new basic (futon style) bed. The rooms were not secure (the lock consists of a padlock handed at arrival) and let in lots of mosquitos (mosquito net was provided). The ceiling was covered in mould and there were cockroaches in the bathroom (not to mention rats in the eating area at breakfast that were also interesting). It is really just cheap backpacker accomodation (not that there's anything wrong with that — I've stayed at places like this before but the price should be about $10-$15US, not $50US!)

Its also located on a busy street some way out of town and the walk consists of walking an hour along broken pavement above sewers. You can't stay in though as (putting to one side the mosquitos) the wi-fi was no more than a crawl pace and TV consisted of BBC news as the only English station.

We tried to leave after the first night...
Having been there, I think both of these could easily be true — though the price was only US $40 a night, and we weren't bitten by mosquitos, and didn't see any cockroaches or rats: just the omnipresent geckos, which I find cute. Some of the complaints seem to mistake common practice in Bali for special defects of the Casa Ganesha hotel. For example: a padlock on the door may be pretty common in Bali, along with mosquito netting — we encountered them not only at this hotel but also the much fancier one we stayed in next. The broken pavement above sewers — well, as I said, that's what sidewalks in Ubud are like! On the other hand, the more positive reviewer may have let some of his general enthusiasm for Bali give his impression of the hotel a rosy hue.
September 21, 2010
We had a wonderful breakfast at the Casa Ganesha hotel: a vegetable omelette and a mixed fruit drink. We bought phone cards, walked up Jalan Raya Pengosakan again, and then up Monkey Forest Road, where I bought a cloth bag. Then we walked to the Mandala Wisata Wanara Wana, or Sacred Monkey Forest Sanctuary. We saw some monkeys near the entrance, but didn't go in.
Thoughout Ubud, and indeed much of Bali, you'll find little offerings in altars, shopfronts and the sidewalk, placed there several times a day by the local residents — usually women. They are beautiful little trays made of bamboo, containing flowers, leaves and rice. They are part of what makes Bali a magical place. Monkeys naturally treat these offerings as snacks: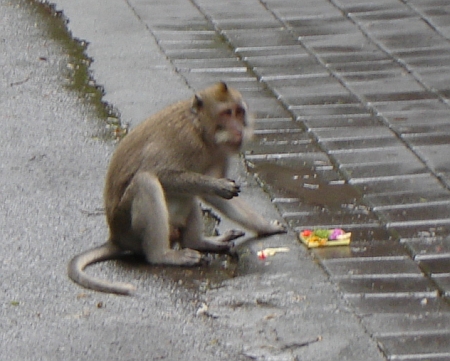 We hiked a bit further up Monkey Forest Road, but soon returned to the hotel to check out. We took a taxi to the Sanyan Terrace Resort, west of Ubud in the village of Sanyan. As the Lonely Planet says, "Properties generally go from posh to posher as one nears the fabled Ayung Valley". The Sayan Terrace Resort is a stunningly beautiful place overlooking the jungle. Here are three views from the balcony of our room: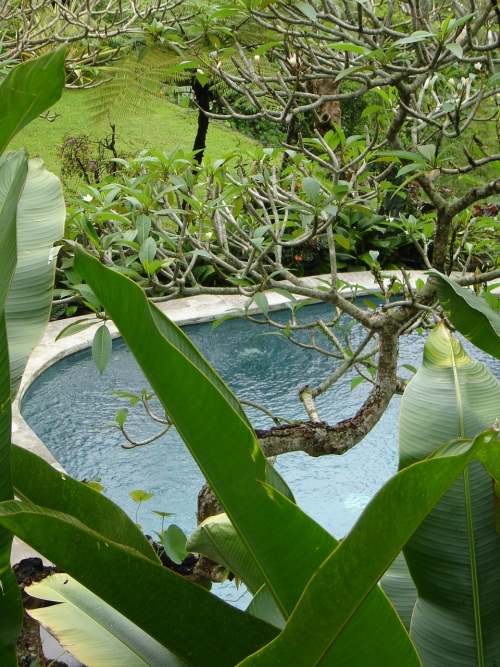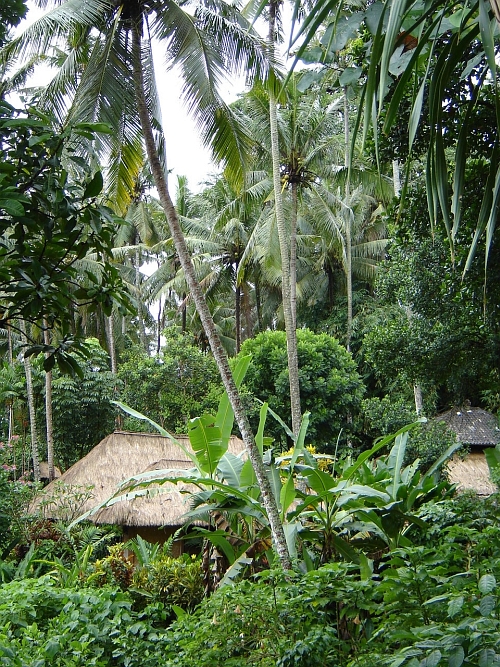 Famously, the Balinese have no word in their language for "art", but they decorate everything beautifully. Here is the wall near the door of our room: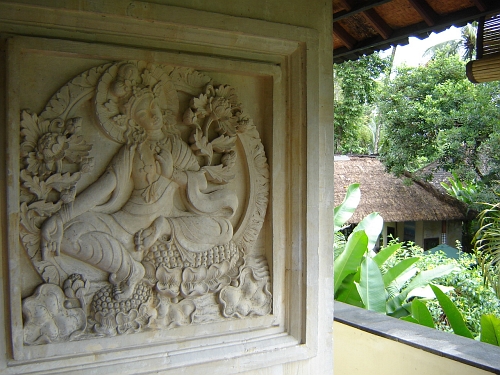 The fellow who drove us to the Sayan Terrace was a would-be lawyer named Nyoman, who we later hired to drive us all over the place. He has gotten a master's degree in law, but not yet been able to find a job using this skill. Apparently no education in Indonesia is free, not even primary school — and the price rises drastically as you climb the ladder. There are fellowships, but mostly well-connected people get them. Nyoman's master's degree cost him 18 million rupiah, or approximately US$ 18,000. He didn't have this much money, so now he has debts to repay. The mean income in Indonesia is about $6 a day, but many people live on less than $1. On days when Nyoman drove us all around, we paid him 350,000 rupiah, or about $35. The Sayan Terrace Resort cost us $110 a night. Staying there was a great experience, but if we go back we will go to a cheaper place, because there are very nice ones for much less.
If you go to Ubud and want someone friendly, reliable and honest to drive you around, I recommend Nyoman. For some reason his card gives his name as Nyoman Banana. I only discovered that when he dropped us off at the airport at the end of our stay, so I didn't have a chance to ask why. Every first-born child in Bali is called Wayan, every second-born child is named Made, every third-born child is called Nyoman, and so on... it loops around after the fifth child. So, first names don't really serve to identify people. Maybe he wanted something that would stand out? Anyway, his email address is
balibanana at hotmail dot com
and his cell phone number is 081 7978 74 06.
After getting settled in, we walked into Ubud, partly on roads and partly on a footpath. Early on, I slipped on a slick wet surface and fell hard on my hand — ouch! Bloody and painful. I haven't done something like that for a long time. We walked down Monkey Forest Road and had a late lunch at a nice restaurant with a lovely garden.
September 22, 2010
A day of driving around with Nyoman. First we went to the Goa Gajah, or Elephant Cave, a temple near Bedulu. Then we went to the Pura Kebo Edan, or "crazy buffalo temple," nearby. Then we drove northeast past Tampaksiring to a really big temple, Gunung Kawi. Here we climbed a hill through terraced rice paddies, where I got my first good look at the elaborate irrigation systems of Bali: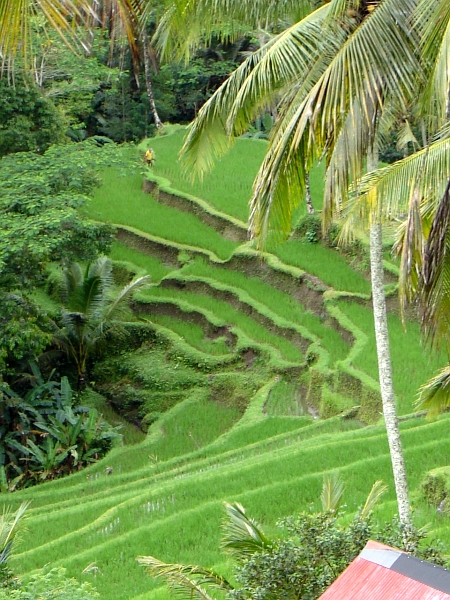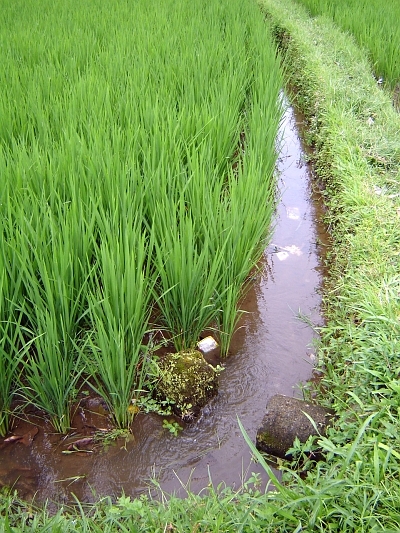 Then we hiked down stairs through the impressive temple gate: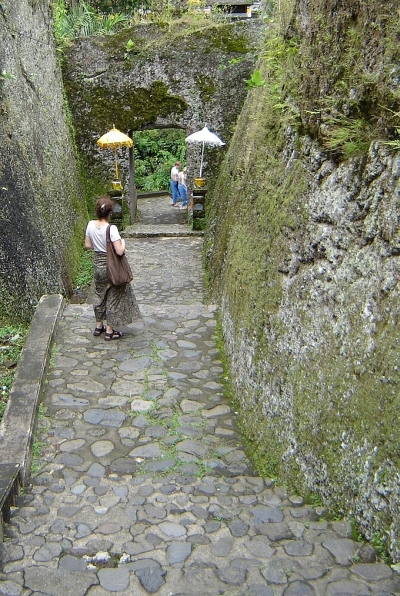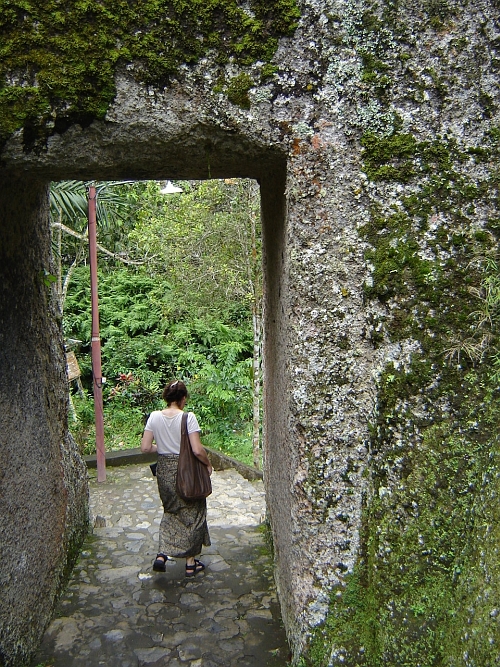 Then we saw the stupas carved into the hill — the reason this temple is famous: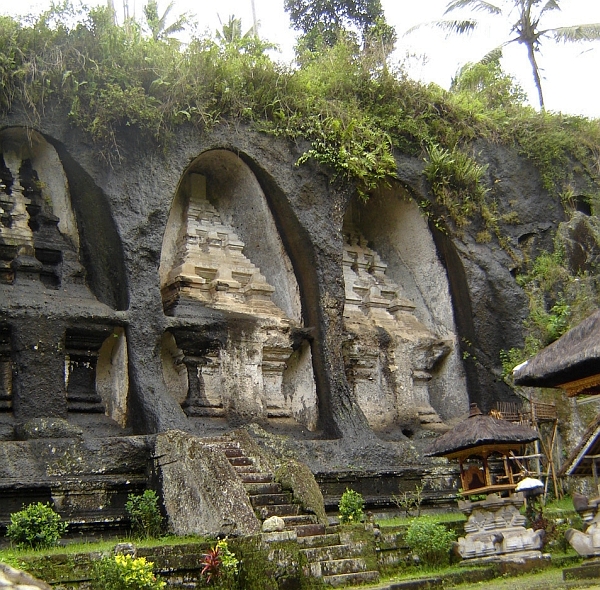 But there are also many other things there: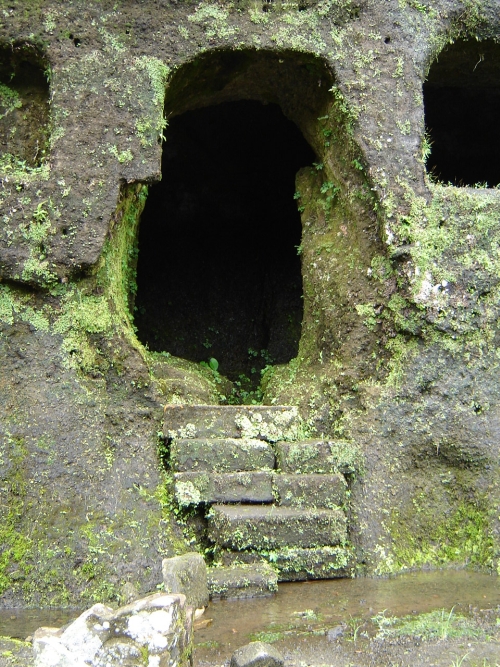 Later, we drove further north to the volcano Gunung Batur and the lake Danau Batur, which we saw from afar, standing on an overlook, assailed by insistent hawkers trying to sell us trinkets. Not very pleasant, despite some nice fruit stands.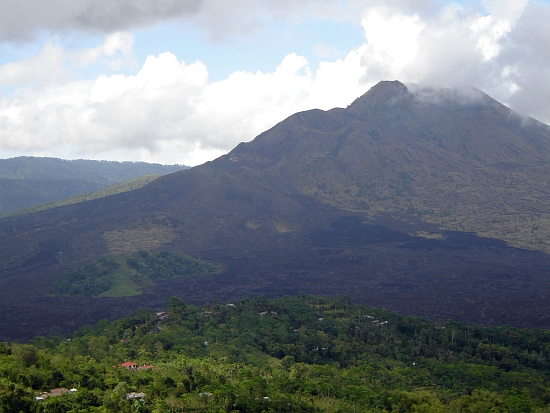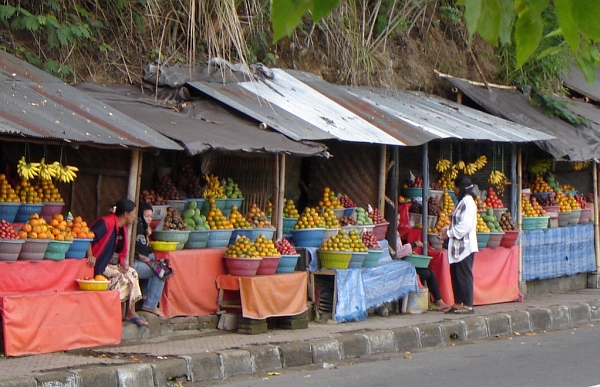 Then we drove south to Mas, a town famous for wood carving, and Nyoman took us to two shops. The first was elaborate, commercial, and unpleasant. The second was much more humble: the house of wood carver, in a traditional walled-in family compound. The place was packed with masks and statues made by carver and some of his ancestors. Trades of this sort tend to run in families. We talked with him quite a bit about woods — crocodile wood and hibiscus wood are the most common, true ebony is logged out, and even fake ebony is expensive. He was not shy of admitting that he stains hibiscus wood with Kiwi brand shoe polish to make it darker.
At one point, he cheerfully mentioned that he had cremated his mother not too long ago. This was not the only time someone told us something like this during our short stay in Bali. Later we learned that a cremation ceremony can easily cost 20 million rupiah, or about US$ 20,000: an enormous amount of money in these parts, where many people live on $3 a day or less. If someone's relatives can't afford a cremation ceremony, they'll be buried in the hopes that someday, when times are better, their remains can be dug up and receive a proper cremation. We saw some of these graves later on.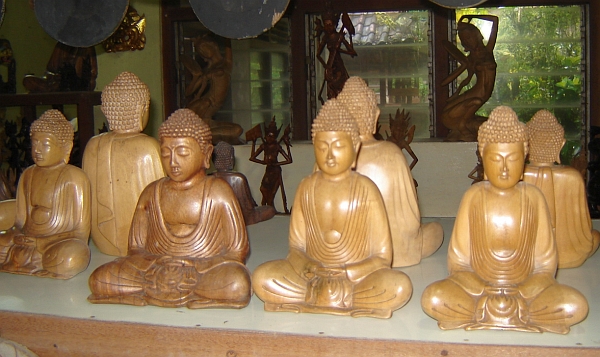 After lengthy discussions we bought a Buddha made of hibiscus wood, as above — the tough part was finding the one with the best expression. We also bought a barong. In Bali, Barong is the king of the spirits, benign though sometimes mischievous. It's depicted in five different ways in different regions, and you see the lion form all around Ubud. There are stone barong statues — amid dozens of other types of statues — throughout Ubud. In the popular dance drama where Barong fights the demon queen Rangda, the barong costume looks like this (not my picture):
You can see some wooden barongs on the wall of the wood carver's shop here:
The prices were quite reasonable after some bargaining. (If you don't bargain hard in Bali, you'll be taken for a sucker and pay prices that may seem reasonable by tourist standards, but are easily ten times the base rate. This may seem annoying — but you need to remember that the people are poor, and would need to be saints to resist soaking up money from people who act like they have more than they know what to do with.)
Alas, I didn't learn this wood carver's name, but he's a nice guy, and I urge you to visit his shop if you visit Ubud. It's called Ary Pura, it's in Mas, and if you want to visit, you can phone at (0361) 975195.
Afterwards we drove back to Ubud, Nyoman dropped us off, and we had dinner at the same place as yesterday.
September 23, 2010
We walked into Ubud again, by the same route. There's a nice stretch of jungle where the road is too steep for cars. In Bali you'll see statues even in places like this, often covered with moss: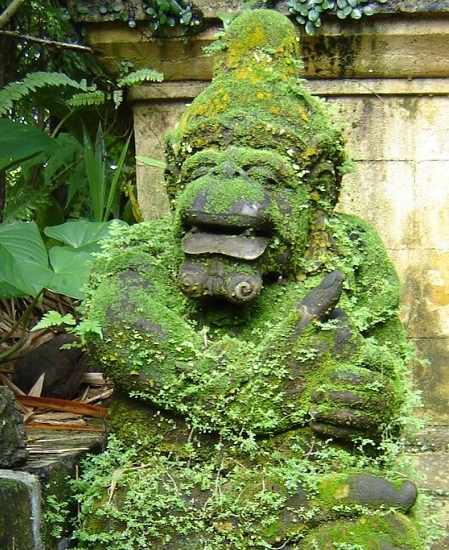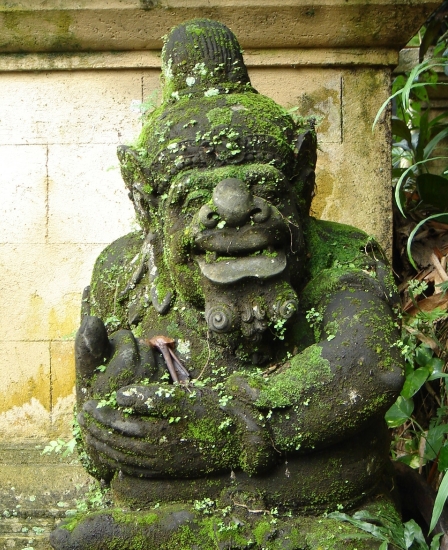 After getting into town, we turned right on Jalan Raya Ubud and went down Jalan Bisma, a quiet street where we had lunch at a cafe and art gallery called Adi's. We then explored the rice paddies near the south end of Jilin Bisma, then went back to Ubud Street. After picking up some money at an ATM we walked down Jalan Hanoman looking for the Kejak dance that was supposed to occur that night at 7:30. We were accosted by many people trying to sell us tickets but had trouble finding the performance venue. Finally we found it, with an hour and a half to spare.

Lisa went further down to Monkey Forest Road to buy some stuff, I wound up hanging out at a cafe, waiting for Lisa to call; the cell phone service didn't work, but Lisa found me in the cafe, across from dance venue: the Taman Sari temple on Jalan Hanoman in the village of Pedangtagal. Then we went to a performance consisting of three dances. Each one would take a page to describe well, but I don't have time!

All three were done on a dim-lit stage. The first was the Kecak dance: a portion of the Ramayana, acted out in dance with a chorus of 50 men providing the music. The remaining two were traditional "sanghyang", or trance dances. First, a Sanghyang Dedari dance: two girls walking forwards and backwards with eyes shut waving their heads back and forth. Three times they fell down and three times they were "revived" by two woman. Then, a Sanghyang Jaran dance, also called a "fire dance". They lit a pile of coconut shells, poured on some alcohol to hasten the flames, then brought in a young man on a kind of toy horse. He rode around it in circles until the fire had burnt down a bit, and then ran through the burning shells, kicking them out of his way... a bit like firewalking, but not quite as demanding, I think. It was still fascinating, since the man was supposed to be in a trance — and even if this was a watered-down touristic version of some traditional ritual, it seemed to hark back to something more potent.

After the dance the fellow sat down and recovered. It was hard to take good photos in the dark, but this one captures some of the mood: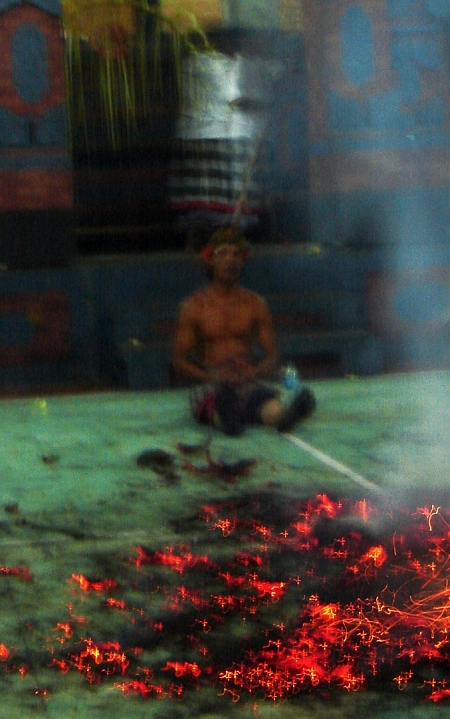 Afterwards we went to the Bebek Bengil, also known as the Dirty Duck Diner. Despite its name, it's an elegant establishment: a deep garden with tables set both under the the open air and in thatched-roof structures, typical of the nicer Balinese restaurants. At night it's lit by many torches, and of course they play gamelan music. Lisa had their signature dish, the crispy duck, which was quite good. I forget what I had, but whatever it was, it went well with the ubiquitous Bintang beer. Beer is a lot cheaper in Indonesia than Singapore, so I let myself indulge a bit during my stay in Bali, despite my pre-diabetic condition. Yeah, stupid, I know.
September 24, 2010
We were planning to walk down to the river in the morning, but wound up talking with Made Dadug, a young tour guide who tends to hang out at the Sayan Terrace Resort. We decided it would be better to go on a guided tour with him another day. And we were right.
At 1 pm we went on another day trip with Nyoman. We stopped at a temple en route to the village of Sukawati. We bought dishes in the crafts market at Sukawati, with Lisa managing to bargain them down wonderfully. We then walked around the back streets, which were full of the walled-in compounds that Balinese like. An extended family of 20 or so will live in one of these, and it will have a bunch of small houses and its own little temple: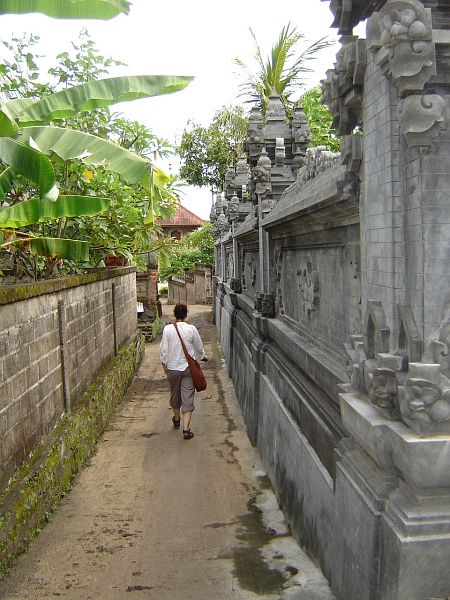 On the way back, we passed a tiny wood carver's shop where we bought a statue of Saraswati, the goddess of learning. In the process we spoke quite a bit with the young woman in the shop, whose father had done the carving. She usually worked as a kindergarten teacher in the big city, Denpasar, a 45 minute drive away. Here is her mother in the shop: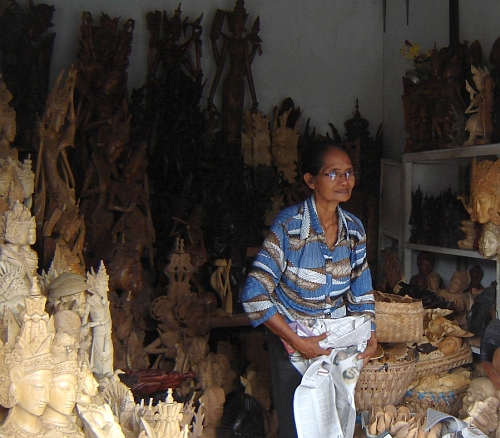 Walking on, we bought some wooden wind chimes on the main street, prompted by the wind chimes at our hotel, which play a nice Balinese sléndro scale. Then Nyoman drove us to a fancy woodcarver who had expensive carvings in crocodile wood and hibiscus wood, including some Saraswatis. He scoffed when we mentioned the little shop in Mas. We liked some of his stuff, but wound up not buying any.
Then Nyoman drove us back to Ubud and dropped us off near the Lotus Cafe — but we went to the Legong and Barong dances put on by the Panca Artha Troupe down the street at the Ubud Wantilan. Afterwards we ate dinner at the Cafe Padang — nice spicy food, but bad for the lower digestive tract next morning! Or maybe it was the bottled water? That's the only thing I had a lot of that Lisa avoided: she'd heard that some of the obscure brands here aren't very safe, and maybe she was right.
September 25, 2010
Another day trip with Nyoman. First we stopped by the the old beach town of Candidasa — our first and only beach experience so far in Bali. It was beautiful, and it brought on fantasies of spending a lot more time at the beach — especially since bungalows are lot cheaper in these out-of-fashion, out-of-the-way towns than in stylish upmarket Ubud!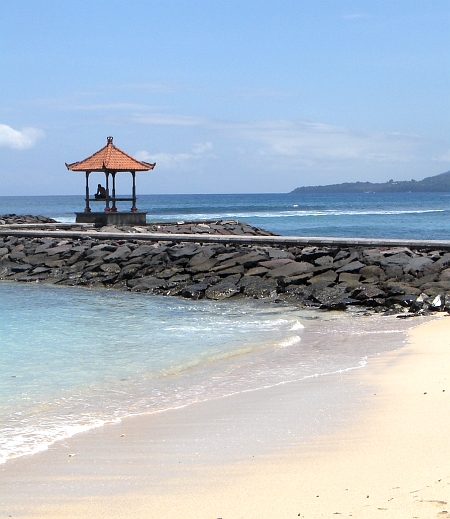 Then we drove north to to visit Tanganan, where our Bali trip really reached its peak. We had timed our visit to catch a famous ceremony that the residents of this village perform every full moon. In fact every village has scads of ceremonies, scheduled according to the rather complex Balinese calender. There are full moon ceremonies, new moon ceremonies, the special day of thanks for the gift of livestock, the the special day of thanks for the gift of art, the special day of thanks for the gift of knowledge, the special day for meditation to enhance balance in the world, the special day of thanks for the gift of metal, the Balinese New Year (and the day before that, called Tawur Agung Kesanga), the special day of thanks for the gift of fruit-bearing plants, the day of praying for the victory of dharma over adharma, the day when ancestral holy spirits and deities ascend back to eternity, the Buddha's birthday, the special day of thanks for the gift of livestock, and probably others I don't know about. Nyoman said he's rather tired of so many ceremonies: for one thing, they eat up a lot of time and money. But of course we'd never seen one, so it was a real treat.

We didn't know what was going on, so we played it by ear. We saw a big procession going down the main road, so we put on sarongs and followed it.
At first we were rather cautious and kept a respectful distance. But then we noticed a white guy taking lots of photographs, along with his wife and children, and nobody seemed to mind them — in fact the villagers seemed pretty interested in their younger child, in a baby carriage — so after a while we relaxed a bit. This village is famous for a gamelan tuned according to some unusually archaic system — and sure enough, a bunch of guys in purple were playing it while leading the procession! At a gateway they turned off the road and headed towards a temple: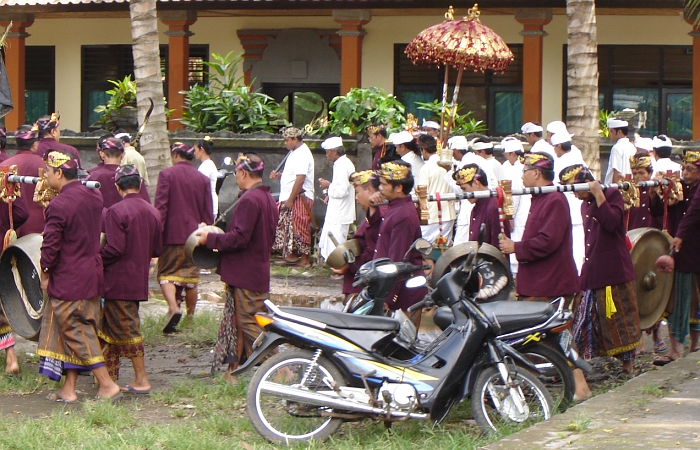 They went into the temple, sat down under a roofed-over structure, and continued playing. Random-looking groups of people gradually filtered into the temple courtyard. They sat or stood, talking to each other and listening to the music. Men generally stayed with men, women with women, boys with boys and girls with girls. Many women came carrying offerings of fruit, which they put on several altars. Many girls wore yellow outfits and handmade bamboo headdresses — we knew they were going to do a ceremonial dance.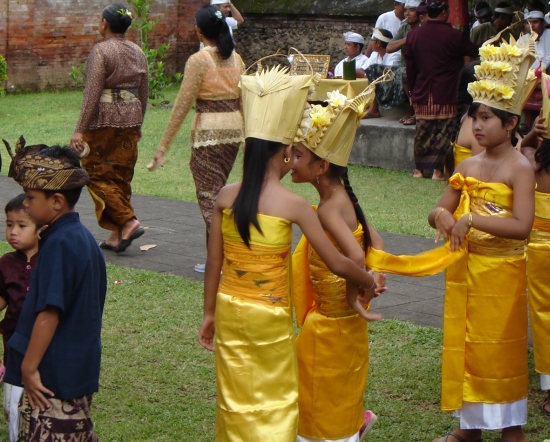 After watching the proceedings for a while, we asked someone if it was okay to go in, and he said it would be fine if we gave a donation. We gave it to a guy sitting at a little table, and he asked us to write our name, address and the amount of our donation in a book. Later he read out the names and amounts for everyone who gave donations — and it wasn't just a few confused tourists like us, it was a long list of names.
After about 45 minutes, the girls did a dance: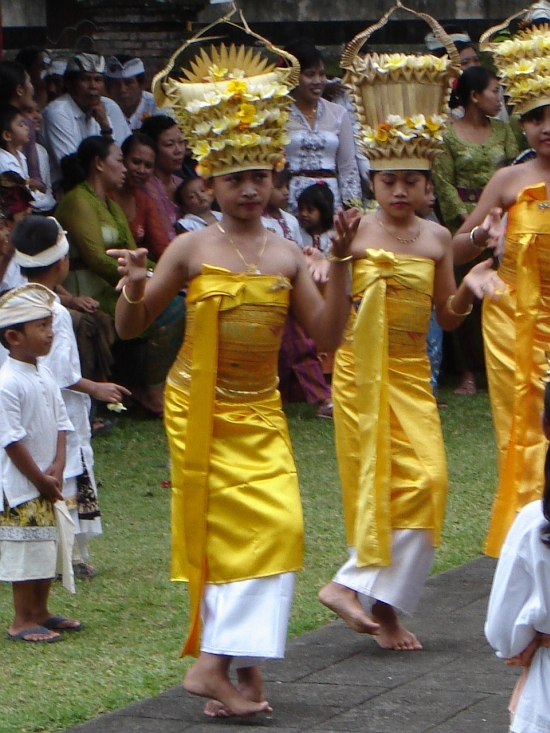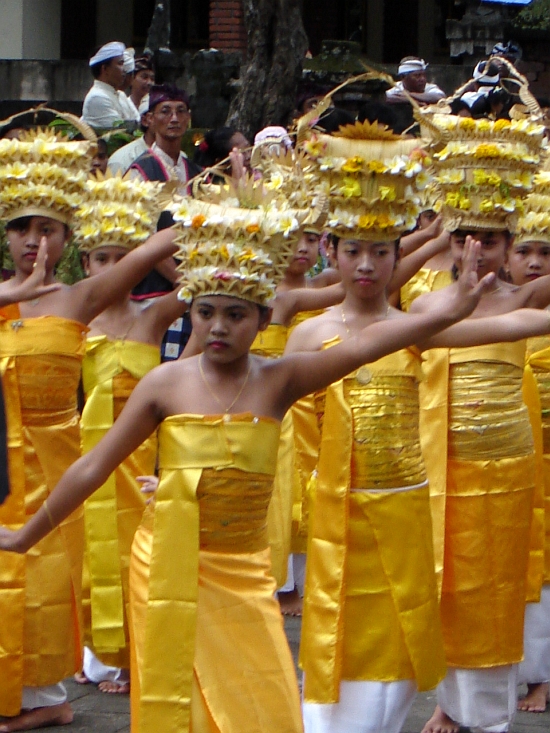 And then, before the boys did their dance, it started to rain quite heavily. Both Lisa and I had foolishly forgot to bring our umbrellas. She found cover and watched the dance, but I left the temple and went under a roofed-in area that was packed with villagers also fleeing from the rain. I spent quite a while there, wishing I could talk to them.
After a while the rain slacked of and Lisa joined me. As the ceremony ended, women brought the offerings back out of the temple, stacked on their heads: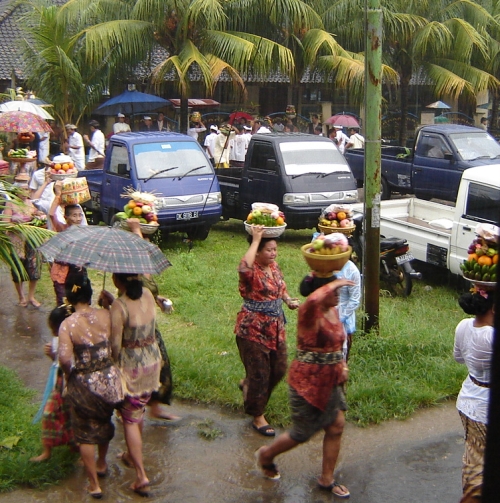 Then the gamelan players left the temple and slowly marched back the road they'd come from, still playing. Other villagers carried banners: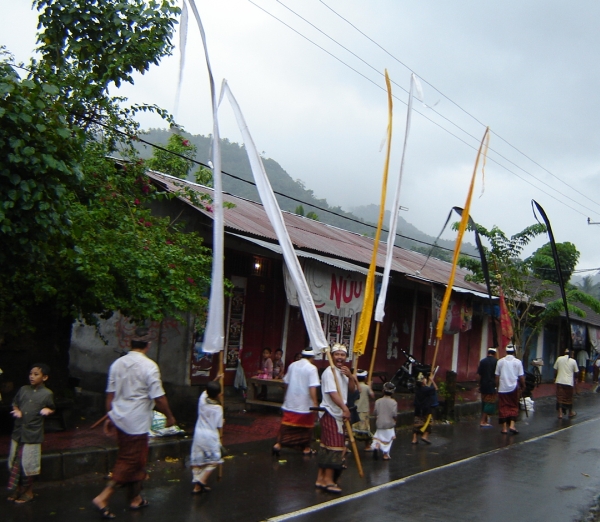 That was a great experience.
After a look at some shops, we then drove to see herons gather at dusk in the village of Petulu. Then, back to Ubud. Nyoman suggested that we have dinner at Cafe Wayan, so that's what we did. They first gave us a bad table, but then we got a nice table way in back, in the typical Balinese garden. Lisa was chilled from being wet, but when we got back to the hotel I took a quick dip in the pool!
September 26, 2010
In the afternoon we took a taxi to the Mandala Wisata Wanara Wana, or Sacred Monkey Forest Sanctuary. It was fun watching the monkeys. The big males were quite aggressive.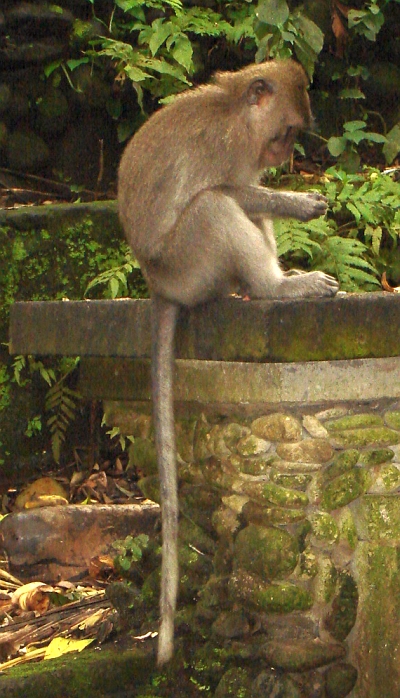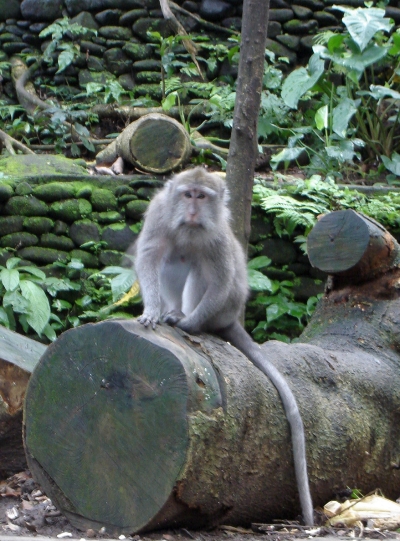 We saw two temples there, one being the Pura Dalem Agung Padangtegal, or Padangtegal Great Temple of Death.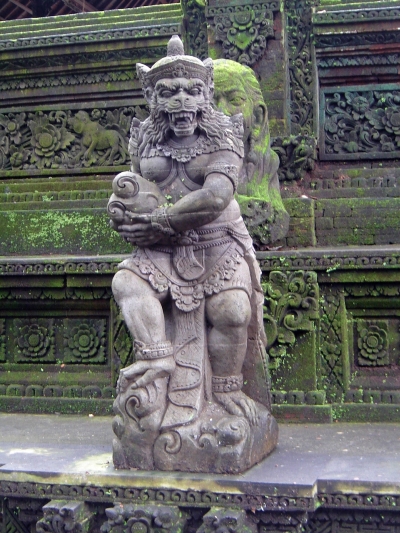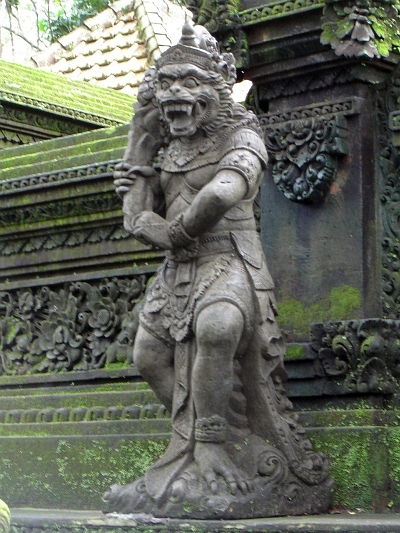 There were monkeys roaming around the temple, and a bunch in the cemetery. Funeral ceremonies are expensive. People who cannot afford a proper Hindu funeral are buried until their relatives can get the money.
After a small snack that turned out to be a bit too large, we did a forced march through the rain up the length of Hanuman Road to the same ATM on Jilin Raya Ubud. We then had a nice light dinner at Coco Bistro, across from the Ubud Wantilan. We could hear the gamelan music for yet another dance performance, and also see it in shadow form on the wall of the hall.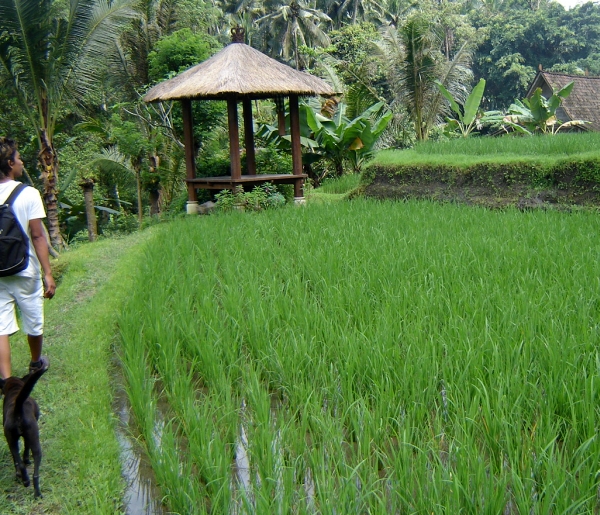 This afternoon we flew home to Singapore. But in the morning, we went on a marvelous 3-hour walk with a young guide, Made Dadug, whom we'd met on our previous failed attempt to walk down to the river. We started from our hotel (the Sayan Terrace Resort), walked down to the river, upstream to a dam, and then back through miles of terraced rice fields. I wrote about this in week303, and I don't have the energy for a thorough report here, even though that writeup just scratched the surface. For example, I didn't talk about the sacred banyan trees that slowly "walk" by lowering aerial roots to the ground, which then grow into new trees as the old ones die. Nor did I talk about how our guide, Made Dagung, invited us to his home for snacks! It was great getting to see inside one of the family compounds that Balinese traditionally live in.
Another image that stuck with me is a local lad sitting in a small open-air hut amid the rice fields, working on a laptop, using a wireless internet connection provided by a big fancy hotel up the hill. People who work at the hotel tell the ever-changing password to their friends.
---
Hesperiidae
Papilionidae
Hyblaeoidae
Epiplemidae
Notodontidae
Nemeobiidae
Eupterotidae
Callidulidae
Dioptidae
Lymantriidae
Noctuidae
Endromidae
Oxytenidae
Lycaenidae
Argyresthiidae
Ctenuchidae

Nepticulidae
Hieroxestidae
Symmocidae
Blastobasidae
Heliozelidae
Limacodidae
Agonoxenidae
Compsoctenidae

Neopseustidae
Incurvariidae
Oecophoridae
Stenomidae
Thyrididae
Heliodinidae
Glyphipterigidae
Dudgeoneidae - Elizabeth Fraser, Melonella
© 2010 John Baez
baez@math.removethis.ucr.andthis.edu