Diary - November 2008
John Baez
November 1, 2008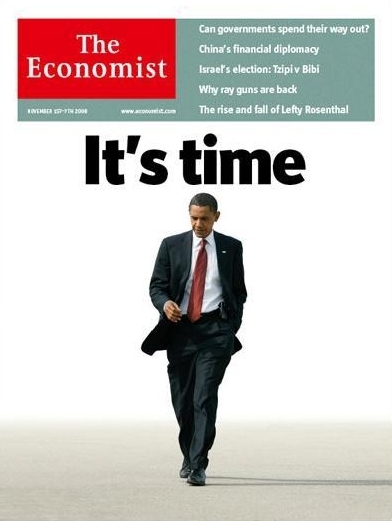 Lisa and I pulled up a big dried-up pride of Madeira plant from our back yard, and went to the local nursery to buy a dwarf citrus tree to put in its place. We already have a blood orange tree, a lime, a Meyer lemon and a kumquat. Also a kaffir lime, still in a pot, waiting to be planted.
In the parking lot we met a women who warned us that the election would be stolen from Barack Obama. She said:
Not having heard about most of this stuff, I wasn't sure how paranoid she was being. I told her I still thought Obama would win. She said she hoped so, but...
There are clearly some very nervous people on both sides of this election, busy demonizing the opposition. There also seem to be plenty of real dirty tricks and legal wrangling going on — great fodder for conspiracy theories.
It's raining tonight! It hasn't rained for many months. A real treat!
November 2, 2008
We only got a little rain — but since it was the first rain since spring, it was very welcome. We're having a serious drought, not just here in the desert but more importantly up north, where we get lots of our water. I was taken aback when I first heard this, since the snowpack in the Sierras looked great on February 3rd; by July 18th it had fallen short, but it didn't seem disastrous.
Bettina Boxall, LA Times
October 31, 2008


State water deliveries could be slashed next year if California continues its dry streak, a move that could lead to widespread rationing.

California Department of Water Resources officials Thursday said water agencies could get as little as 15% of their State Water Project allocations, although that figure could go up if Sierra Nevada rain and snowfall return to normal in the coming months.

"We're clearly making a major call for extra conservation, but also permanent conservation," said water resources director Lester Snow, who renewed the Schwarzenegger administration's call for the construction of new reservoirs.

Officials at Southern California's major water supplier, the Metropolitan Water District of Southern California, say its board soon will discuss whether to initiate cutbacks.

"We are preparing for the real possibility of water shortages and rationing," said Jeff Kightlinger, the MWD's general manager.

Last spring was the driest since 1921 in the northern Sierra, depleting reservoirs in the State Water Project, which provides about a third of urban Southern California's water.

A court ruling to protect delta smelt has reduced pumping from the Sacramento-San Joaquin Delta, the crossroads for sending water south to the San Joaquin Valley and the Southland.

Snow said state reservoirs are starting the rainy season at their lowest levels since 1977, when California was hit by a severe drought.

But state records show that if all the reservoirs that supply California, including major ones on the Colorado River, are taken into account, the picture is not so bleak.

The overall water storage is roughly 70% of the average for this time of year.

This year's flows into Lake Powell, which catches water from the upper Colorado River Basin, were above average, easing a long-term drought on the river.

Storms are expected statewide in the next few days and state meteorologist Elissa Lynn also said there is a potential for more precipitation this rainy season than last.

Water agencies rarely get their full allotment of deliveries from the State Water Project, which promises more water on paper than it usually has the ability to deliver.

Initial state project allocations, such as the 15% figure announced Thursday, also can change dramatically over the course of a year.

The lowest was in 1993, when the state anticipated that it would deliver only 10% of its customers' water requests. But conditions improved and contractors wound up getting 100%.

Two dry years in a row in the state, delta pumping cutbacks and an eight-year drought on the Colorado River led to scattered urban rationing this year and irrigation cutbacks in the San Joaquin Valley.

The MWD, which supplies water to agencies that serve 19 million people, mounted a voluntary conservation program that Kightlinger said has reduced water use by 8% to 10%.

But the MWD's Diamond Lake reservoir is nearly half empty and the agency's water reserves are down by a third.
November 4, 2008
Lisa and I had an election-watching party with some anthropologist friends of ours. It was my idea, but we held it at their house: their huge flat-screen TV, our home-made pizza.

There wasn't too much suspense, but still McCain's concession speech came as a tremendous relief. It was noble and gracious.

In Grant Park, Chicago, a crowd of 240,000 people went wild.

Then, together with those people and millions more across the world, we watched Obama's acceptance speech. It was moving in a way that you can only feel at the end of a year of suspense and worry.

I'm glad both Obama and McCain rose to the occasion tonight. It may help us stop squabbling, and begin the work we need to do. "The road ahead will be long. The climb will be steep."
November 7, 2008
I like this headline:
November 8, 2008
For what it's worth, here is a map showing states that voted for Obama (blue) or McCain (red), followed by a map showing the percentage of the population with less than 9 years of education: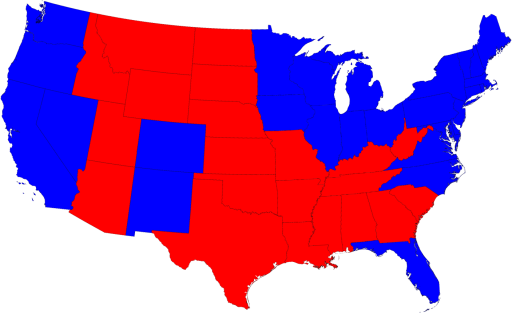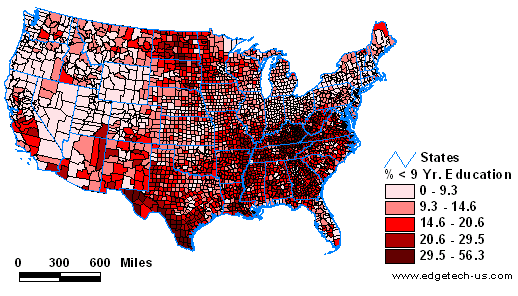 This may explain why Republicans like to attack "elitists".
The red and blue map was brought to my attention by Toby Bartels. It was made by Mark Newman, who also has a much more interesting map showing the same results, but with each state given an area proportional to its population: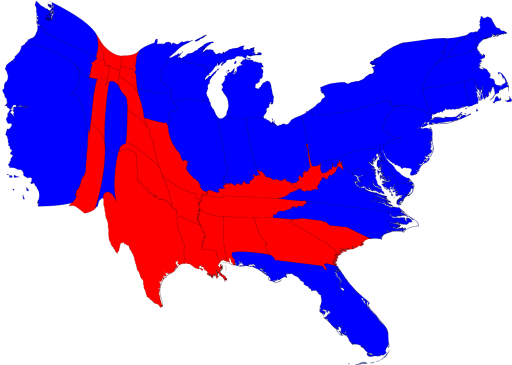 November 9, 2008
The Mission Inn in downtown Riverside is a baroque and whimsical building, built from 1902 to 1935 by an architect named Frank Miller. Miller worked on it obsessively, and he had a taste for the flamboyant. It has narrow passageways, exterior arcades, a medieval-style clock with moving figures — a monk, a bear, and so on — a five-story rotunda, a Chinese Room, a Japanese room, a simulated Spanish Mission, castle towers, minarets, flying buttresses, Mediterranean domes, a pedestrian skybridge, a garden containing 800 bells, and much more.
When I first moved to Riverside, the hotel had been closed for a long time. The city had a project to renovate it — but when the first Bush recession hit, the city ran out of money for this project. It even failed to pay contractors for work they'd done!
As you may or may not know, President Taft was extremely fat: he weighed over 300 pounds. He visited the Mission Inn, and they had a large and sturdy chair specially built for him. You can see it there now. One carpenter whom the city owed stole President Taft's chair from the inn and held it for ransom in an undisclosed location (a warehouse somewhere in town). The city eventually paid him.
Later, when the economy improved, work on the Mission Inn continued. I remember being able to walk right in and wander around the labyrinth of bizarre rooms. It was great fun. Now the Inn has reopened and only guests are allowed to nose around the place! (But, you can pretend to be a guest.)
But: I never knew the Mission Inn had catacombs.
Elaine Yeung, The Mission Inn catacombs: what are they hiding?, Highlander, November 7, 2008.
Let me quote it:
The expansive underground catacombs beneath the Mission Inn consist of numerous chambers and tunnels. They stretch from the bottom of the Mission Inn to as far as the old Riverside city hall, and out the back of the hotel to what used to be the servant's quarters across Sixth Street. The old city hall used to be across the street from Mission Inn Avenue.

There are also rumors that the catacombs lead to Mount Rubidoux, but others claim that the catacombs only head in the direction of Mount Rubidoux.

However, even though the catacombs underground extend outside of the Inn's property lines, they are still sealed to the Mission Inn underneath.

The catacombs were created by the original architect, Frank Miller, in 1915. He filled the subterranean corridors with numerous artifacts he obtained near the end of San Francisco's 1915 Panama-Pacific International Exposition.

Some of the most significant figures are the life-sized wax figures of Pope Pius X of the Papal Court and his 13 attendants. Miller also acquired 38 paintings of the 21 California missions done by a prominent artist, Henry Chapman Ford, in the 1960s and 1970s.

Miller exhibited the paintings in the catacombs, and he named the location where the paintings were on display "El Camino Real," the Royal or King's Highway, after the road where the California missions are located. The underground museum drew many visitors during its opening period. Unfortunately mildew, dust, insects, and other aspects damaged many of the underground artifacts over the years.

However, the catacboms were closed down to the public when the Mission Inn was re-opened in 1992 after a massive renovation project, safety issues being the main concern. In the event of a fire or earthquake, there are no easy escape routes.

Closing of the catacombs stirred even more rumors among Riverside inhabitants. Some staff workers at the Mission Inn previously claimed that there was activity in the area of the foyer during the years following the Mission Inn's reopening.

The Mission Inn's financial controller during the time of the hotel's re-opening even resigned after supposedly seeing someone in the area late one evening. So you probably don't want to find yourself alone there.

Few people have been allowed to venture into the catacombs after their closure, but recently, the Mission Inn allowed people 10 chances to see them in late October. There were five tours of a maximum of 24 people on October 24th and 25th.
Darn! I missed them! But they were somewhat goofy Halloween-themed tours — you can see some photos.
November 10, 2008
Thomas Friedman is succeeding in publicizing some things we should all know:
Hot, Flat, and Crowded: Why We Need a Green Revolution — and How it Can Renew America, Farrar, Straus and Giroux, New York, 2008.
From the Woodrow Wilson School:
The book's title identifies three major trends of this century: Climate change is warming our planet; the rise of a global middle class is flattening the differences between rich and poor; and a rapidly expanding population is crowding the world. According to Friedman, these converging trends are driving "five global mega-trends" that will determine our future stability:

Energy and natural resource supply and demand: While some countries are taking steps to become more energy-efficient, the explosive growth of developing-country cities is outpacing these gains. Friedman asserts that there are not enough energy and natural resources for everyone to consume at Americans. current rates and that everyone, Americans included, must address energy supply and demand.
Petrodictatorship: We are "funding both sides of the war on terrorism," said Friedman: the U.S. military with tax dollars, and terrorist groups (and the states that sponsor them) with gas dollars.
Climate change: Friedman emphasized that the pace of climate change is exceeding many scientists' predictions, including those of the Intergovernmental Panel on Climate Change, and that we have little time to act.
Energy poverty: The lack of a consistent electricity supply not only cripples 1.6 billion people's ability to obtain high-quality health care and adapt to the effects of climate change, but also prevents them from accessing the myriad educational and economic opportunities provided by the Internet.
Biodiversity loss: The Earth is losing species 1,000 times faster than normal, claimed Friedman. "We are the first generation of humans that is actually going to have to think like Noah," said Friedman, to save rapidly disappearing plants and animals.

Friedman thinks these trends are "a series of incredible opportunities masquerading as impossible and insoluble problems" because all five can be reversed by "abundant, cheap, clean, reliable electrons" and energy efficiency. The country that becomes the leader in new energy technology (ET) will have the most stable economy and garner the most respect on the international stage, said Friedman. If the United States does not take the lead in the ET revolution, others — China, India, Europe — will, but they won't do it as fast or as well as the United States, he says.
November 12, 2008
In the Chicago Tribune, Garrison Keiller writes:
Sitting on Top of the World

The city of Chicago is celebrating the rise of one of their own to the office of president of the United States.

Be happy, dear hearts, and allow yourselves a few more weeks of quiet exultation. It isn't gloating, it's satisfaction at a job well done. He was a superb candidate, serious, professorial but with a flashing grin and a buoyancy that comes from working out in the gym every morning. He spoke in a genuine voice, not senatorial at all. He relished campaigning. He accepted adulation gracefully. He brandished his sword against his opponents without mocking or belittling them. He was elegant, unaffected, utterly American, and now (Wow) suddenly America is cool. Chicago is cool. Chicago!!!

We threw the dice and we won the jackpot and elected a black guy with a Harvard degree, the middle name Hussein and a sense of humor - he said, "I've got relatives who look like Bernie Mac, and I've got relatives who look like Margaret Thatcher." The French junior minister for human rights said, "On this morning, we all want to be American so we can take a bite of this dream unfolding before our eyes." When was the last time you heard someone from France say they wanted to be American and take a bite of something of ours? Ponder that for a moment.

The world expects us to elect pompous yahoos, and instead we have us a 47-year-old prince from the prairie who cheerfully ran the race, and when his opponents threw sand at him, he just smiled back. He'll be the first president in history to look really good making a jump shot. He loves his classy wife and his sweet little daughters. At the same time, he knows pop music, American lit and constitutional law. I just can't imagine anybody cooler.

It feels good to be cool, and all of us can share in that, even sour old right-wingers and embittered blottoheads. Next time you fly to Heathrow and hand your passport to the man with the badge, he's going to see "United States of America " and look up and grin. Even if you worship in the church of Fox, everyone you meet overseas is going to ask you about Obama, and you may as well say you voted for him because, my friends, he is your line of credit over there. No need anymore to try to look Canadian.

And the coolest thing about him is the fact that back in the early '90s, given a book contract after the hoo-ha about his becoming the First Black Editor of The Harvard Law Review, instead of writing the basic exploitation book he could've written, he put his head down and worked hard for a few years and wrote a good book, an honest one, which, since his rise in politics, has earned the Obamas enough to buy a nice house and put money in the bank. A successful American entrepreneur.

Our hero who galloped to victory has inherited a gigantic mess. The country is sunk in debt. The Treasury announced it must borrow $550 billion to get the government through the fourth quarter, more than the entire deficit for 2008, so he will have to raise taxes and not only on bankers and lumber barons. His promise never to raise the retirement age is not a good idea. Whatever he promised the Iowa farmers about subsidizing ethanol is best forgotten at this point. We may not be getting our National Health Service cards anytime soon. And so on and so on.

So enjoy the afterglow of the election awhile longer. We all walk taller this fall. People in Copenhagen and Stockholm are sending congratulatory e-mails - imagine! We are being admired by Danes and Swedes! And Chicago becomes The First City. Step aside, San Francisco. Shut up, New York. The Midwest is cool now. The mind reels. Have a good day.
November 18, 2008
I now route my math department email through Google's "gmail" because it does a better job of filtering out spam. With gmail, there's always a little inconspicuous one-sentence advertisement on top, based on the words in your mail. So, I get lots of ads related to math and physics. But today, when I was scanning through my spam, I got this:
November 19, 2008
The events move faster and it becomes hard to keep up with them. Record-breaking temperatures in Southern California have triggered another round of devastating wildfires, this time in Santa Barbara and Los Angeles. Again our town lucked out: no fire here.

Meanwhile, after years of huge profits from selling gas-guzzling monster cars, the American automobile industry is collapsing. This could be good thing. While the layoffs will hurt the American economy in the short term, in the long run we need to move away from the pernicious petroleum addiction this industry helps perpetuate. Influential people — not just starry-eyed visionaries like me — are starting to talk about the need for a green revolution. Shouldn't we take the opportunity to hasten it? The carbon-burning economy will eventually die; the big question is whether it will take us down with it.

This week the Big Three — Ford, General Motors and Chrysler — have been in Congress, begging for $50 billion of the taxpayer's money. Now it's the Republicans and Bush who are being sensible, not the Democrats: today they managed to derail this bailout. We'll see what happens.

When I was a kid, history seemed like a thing of the past. Now it's happening every day.
November 24, 2008
The October 15th New Scientist has a bunch of good articles about the need to end our quest for perpetual "economic growth" — at least as this term is defined now.
I think Gus Speth hits the nail on the head in his interview here:
He says:
My conclusion is that we're trying to do environmental policy and activism within a system that is simply too powerful. It's today's capitalism, with its overwhelming commitment to growth at all costs, its devolution of tremendous power into the corporate sector, and its blind faith in a market riddled with externalities. And it is also our own pathetic capitulation to consumerism. Even as the environmental community swims more strongly against the current, the current gets ever stronger and more treacherous, so environmentalism slips under. The only solution is to get out of the water, take a hard look at what's going on and figure what needs to be done to change today's capitalism.
For more details on how tough a spot we've gotten ourselves into, try this: A quote:
The Ehrlich equation, I = PAT, says simply that the impact (I) of human activity on the planet is the product of three factors: the size of the population (P), its level of affluence (A) expressed as income per person, and a technology factor (T), which is a measure of the impact on the planet associated with each dollar we spend.

Take climate change, for example. The global population is just under 7 billion and the average level of affluence is around $8000 per person. The T factor is just over 0.5 tonnes of carbon dioxide per thousand dollars of GDP - in other words, every $1000 worth of goods and services produced using today's technology releases 0.5 tonnes of CO2 into the atmosphere. So today's global CO2 emissions work out at 7 billion × 8 × 0.5 = 28 billion tonnes per year.

The Intergovernmental Panel on Climate Change (IPCC) has stated that to stabilise greenhouse gas levels in the atmosphere at a reasonably safe 450 parts per million, we need to reduce annual global CO2 emissions to less than 5 billion tonnes by 2050. With a global population of 9 billion thought inevitable by the middle of this century, that works out at an average carbon footprint of less than 0.6 tonnes per person - considerably lower than in India today. The conventional view is that we will achieve this by increasing energy efficiency and developing green technology without economic growth taking a serious hit. Can this really work?

With today's global income, achieving the necessary carbon footprint would mean getting the T factor for CO2 down to 0.1 tonnes of CO2 per thousand US dollars - a fivefold improvement. While that is no walk in the park, it is probably doable with state-of-the-art technology and a robust policy commitment. There is one big thing missing from this picture, however: economic growth. Factor it in, and the idea that technological ingenuity can save us from climate disaster looks an awful lot more challenging.

First, let us suppose that the world economy carries on as usual. GDP per capita will grow at a steady 2 or 3 per cent per year in developed countries, while the rest of the world tries to catch up - China and India leaping ahead at 5 to 10 per cent per year, at least for a while, with Africa languishing in the doldrums for decades to come. In this (deeply inequitable) world, to meet the IPCC target we would have to push the carbon content of consumption down to less than 0.03 tonnes for every thousand US dollars spent - a daunting 11-fold reduction on the current western European average.

Now, let's suppose we are serious about eradicating global poverty. Imagine a world whose 9 billion people can all aspire to a level of income compatible with a 2.5 per cent growth in European income between now and 2050. In this scenario, the carbon content of economic output must be reduced to just 2 per cent of the best currently achieved anywhere in the European Union.

The potential for technological improvements, renewable energy, carbon sequestration and, ultimately perhaps, a hydrogen-based economy has not been exhausted. But what politicians will not admit is that we have no idea if such a radical transformation is even possible, or if so what it would look like. Where will the investment and resources come from? Where will the wastes and the emissions go? What might it feel like to live in a world with 10 times as much economic activity as we have today?

Instead, they bombard us with adverts cajoling us to insulate our homes, turn down our thermostats, drive a little less, walk a little more. The one piece of advice you will not see on a government list is "buy less stuff". Buying an energy-efficient TV is to be applauded; not buying one at all is a crime against society. Agreeing reluctantly to advertising standards is the sign of a mature society; banning advertising altogether (even to children) is condemned as "culture jamming". Consuming less may be the single biggest thing you can do to save carbon emissions, and yet no one dares to mention it. Because if we did, it would threaten economic growth, the very thing that is causing the problem in the first place.
November 25, 2008
Kevin Kelly writes:
John,


This oddity is your kind of thing: The Ladder Stuck in Time
http://www.geocities.com/Athens/Oracle/1631/ladder1.html

-- KK
It's indeed my sort of thing: a mysterious and seemingly useless wooden ladder that has been perched below a window on the Church of the Holy Sepulchre at least since 1840:
Photograph by R. Malcolm Brown, 1999
James Lancaster tracks down the story of this ladder in the page cited above.
November 30, 2008
Lately I've become interested in the case of M. S. El Naschie, editor of Chaos, Solitons & Fractals, whose editorship is now due to end in January.
If you're into this sort of thing, you may be reminded of the Bogdanoff Affair. And you may wonder: whatever happened to the Bogdanoff brothers? Here's an interesting bit of news about them. It comes from a correspondent who may prefer to remain anonymous:
I would like to bring to your attention some information about the Bogdanoff brothers (in the case you are not acquainted with it):

It seems that Igor and Grichka Bogdanoff hold the chair in theoretical physics at the "Megatrend University of Applied Sciences" in Belgrade, Serbia. This was reported in an article in the French newspaper Le Figaro on February 20th, 2008, which claims that the Bogdanoffs were hired already in November 2005 and taught theoretical physics and cosmology since December 2005. Apparently they are also heads of the General Cosmology Laboratory at the same university.

Amusingly, the information provided about this lab is identical to the description found on the homepage of the Mathematical Center of Riemannian Cosmology (which is mentioned in your article regarding the Bogdanoff affair).

At the end of 2006 the Bogdanoffs published also the Serbian version of their book Avant le Big Bang. Interestingly, this version is co-authored by the chancellor of the "Megatrend University", Mica Jovanovic, whose primary field of interest is business management (sic!).

Furthermore, the Bogdanoffs promote themselves as geniuses in cosmology comparable to Hawking (e.g. in an interview for a students. newspaper/blog). Luckily, not everyone in Serbia is fooled by the twins, despite the traditional Serbian praise for Russians or Russian descendants.
---
Rosa Parks sat so Martin Luther could walk. Martin Luther King walked so Obama could run. Obama is running so our kids can fly. - Jay-Z
© 2008 John Baez
baez@math.removethis.ucr.andthis.edu