... in the late 1800s, dodecahedra met the fourth dimension!
You can make a paper model of a dodecahedron by taking a flat cutout and folding it up: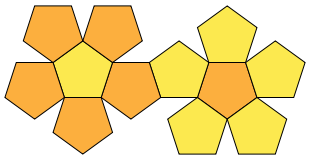 It folds up since there's some "wiggle room" left when you try to tile the plane with pentagons.
---
This picture is from the Wikipedia article on the Dodecahedron. Created by Cyp, it is available at the Wikimedia Commons under the Creative Commons Attribution ShareAlike 2.5 license.