Marseille
John Baez
May 3-7, 2004
The limestone cliffs near Marseille in France are called the "Calanques". They're really beautiful. I visited them when I was attending a conference Non Perturbative Quantum Gravity: Loops and Spin Foams from May 3rd to May 7th, 2004. The conference was at CIRM, a mathematics institute in Luminy, which in turn is near Marseille.
About a hundred people working on quantum gravity attended this conference, including lots of my close colleagues. I gave a talk about spin foam models, and wrote about the conference in week206 of This Week's Finds.
Here are some photos of the Calanques and this conference taken by George Gollin, Lee Smolin and Kirill Krasnov. You can also see more photos of the conference at the website of my friend and collaborator Dan Christensen.
---
I'll start with two stunning photographs of the Calanques near CIRM, taken by George Gollin. For more, see his travel picture website.
The Calanque de Morgiou: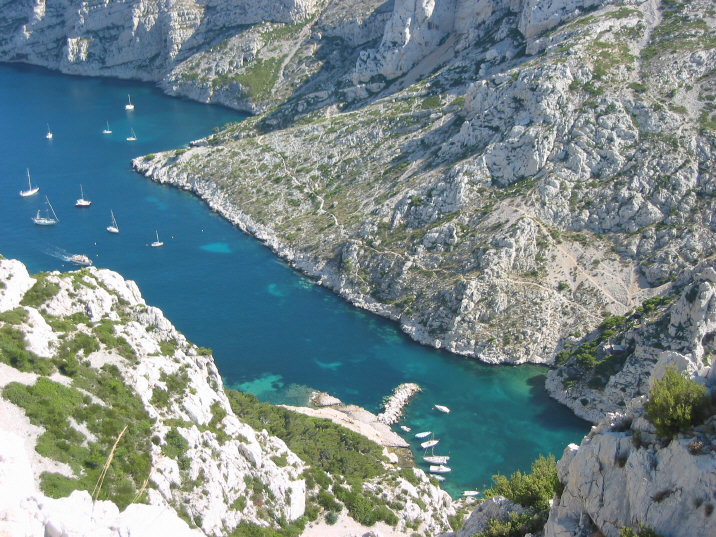 The Calanque de Sugiton: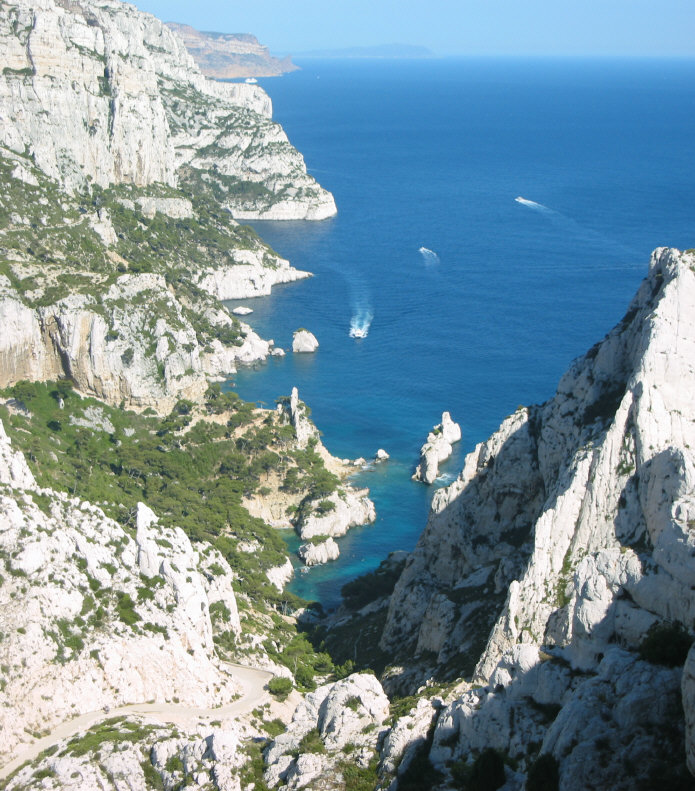 ---
Next, here a bunch of photos taken by Lee Smolin. Most of the people working on loop quantum gravity can be seen here, with the obvious exception of Lee. I've listed them in alphabetical order, and when there's more than one person clearly visible in the shot, I've listed their names from left to right. You can click on these thumbnails to see bigger pictures.
Abhay Ashtekar: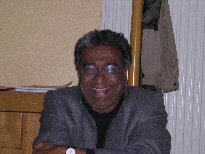 Abhay Ashtekar listening to someone: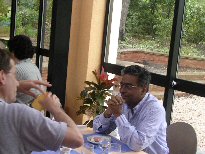 John Baez: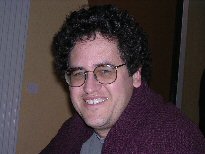 Julian Barbour: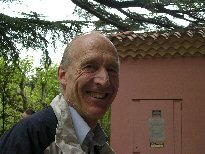 Julian Barbour, Renate Loll and Jacob G. Foster: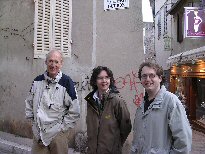 John Barrett and Ted Jacobson: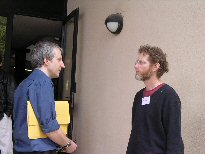 Martin Bojowald and Alejandro Perez: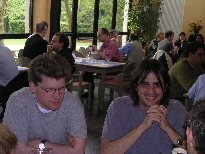 Dan Christensen: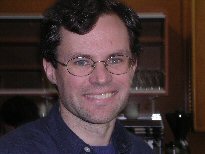 Dan Christensen stretching a spin network edge: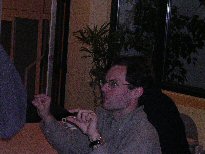 Alejandro Corichi: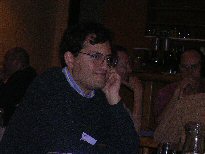 Alejandro Corichi and Luca Bombelli: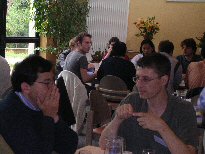 Roberto DePietri: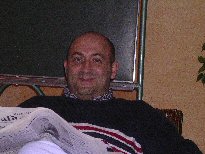 Olaf Dreyer and Fotini Markopoulou: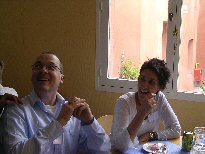 Laurent Freidel talking to someone: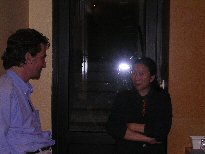 Rodolfo Gambini: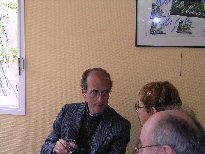 Kristina Giesel: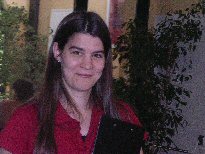 Viqar Husain: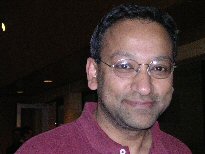 Ted Jacobson and Carlo Rovelli: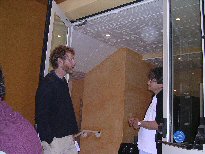 Jerzy Kowalski-Glikman and Michael de Jong: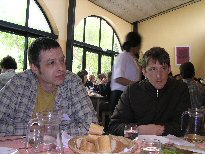 Kirill Krasnov: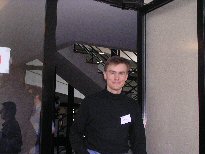 Jerzy Lewandowski: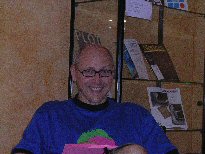 Etera Livine: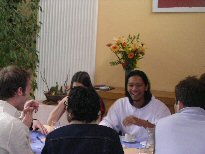 Renate Loll: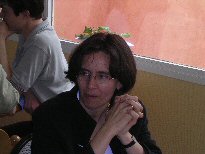 Fotini Markopoulou and Jerzy Kowalski-Glikman: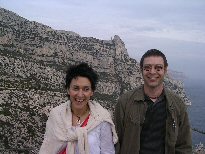 Daniele Oriti, John Barrett, and Julian Barbour: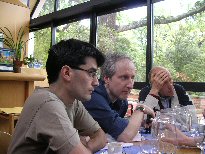 Daniele Oriti and Alejandro Perez: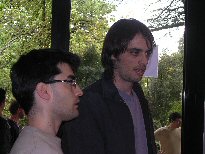 Phillipe Roche: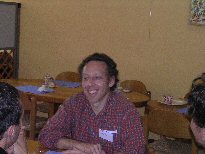 Carlo Rovelli: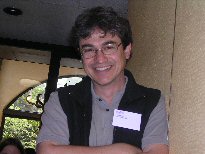 Thomas Thiemann and Renate Loll: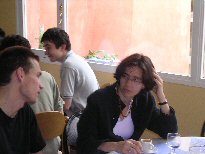 Finally, some wild dancing at the end of a successful conference: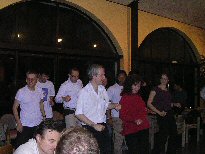 ---
Next, here are some photographs taken near the Calanques by my friend Kirill Krasnov when we were hiking there.
Here's Djordje Minic experimentally demonstrating some nonperturbative effects of gravity, while I stand in the background content to theorize about them: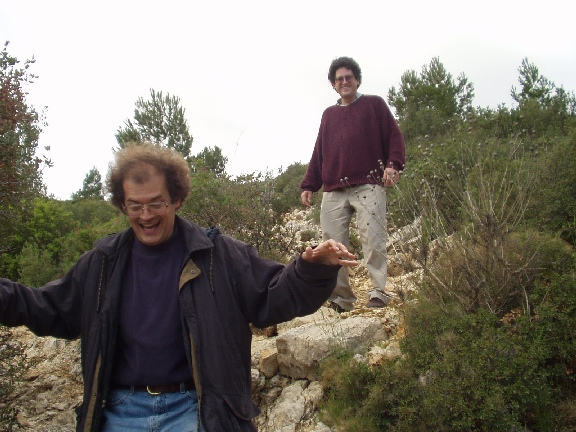 Next, two more pictures of Djordje and I hiking around the Calanques: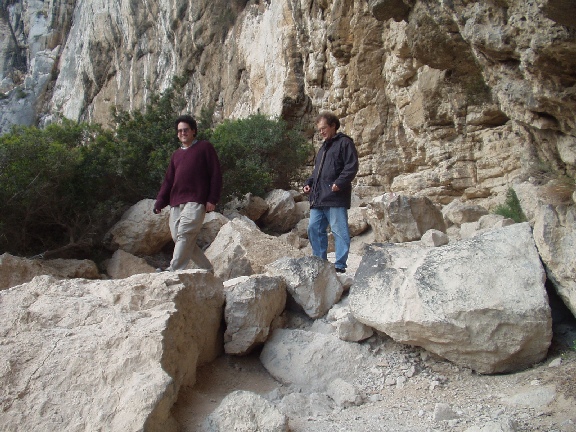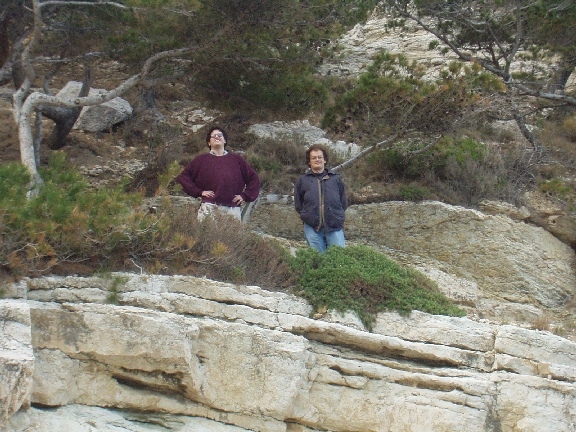 From left to right, here is John Barrett, Eli Hawkins (who at the time was a postdoc with John at the University of Nottingham), myself, and John's girlfriend Josie: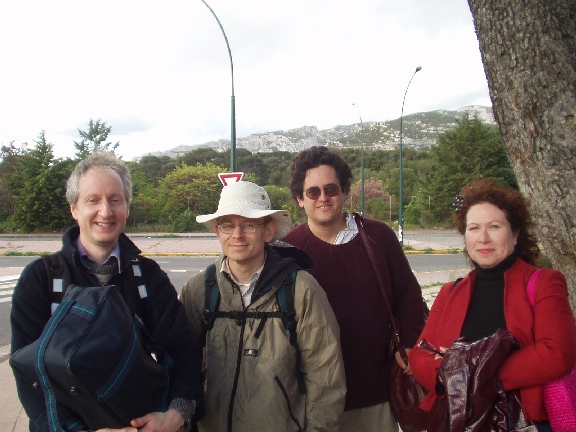 Finally, here's a slightly blurry picture of Kirill and I in a bar next to the main port in Marseille - taken by the bartender: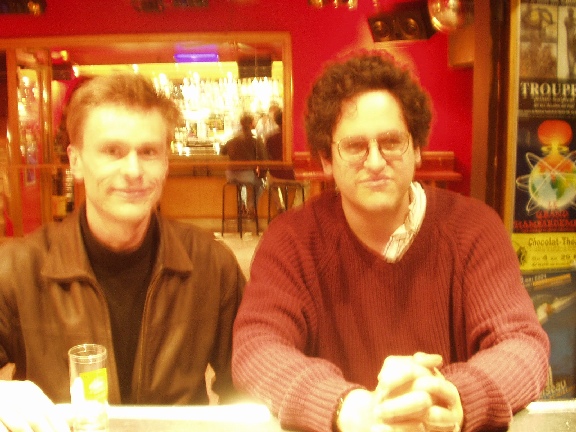 ---
© 2004 John Baez, George Gollin, Kirill Krasnov, Lee Smolin
baez@math.removethis.ucr.andthis.edu