Diary - June 2009
John Baez
June 2, 2009
Click on songs to play them. Or if you prefer,
download the whole album
or
read how it was made.
Music by John Baez and Wolframtones.
Background tiling by Greg Egan.
Treq Lila is licensed under a
Creative Commons Attribution-Noncommercial-No Derivative Works 3.0 United States License.





I've been working on this album for a long time. I started in August 2007 when I was holed up in Greenwich trying to prepare a talk for the 2007 Abel Symposium. Now I'm editing the page proofs for my paper in the proceedings of that conference, and putting off work on an overdue paper for the proceedings of another — a paper I've been writing for almost two years.

So, you could say this album was conceived in procrastination and finally born out of procrastination. That doesn't sound promising, but I bet a lot of great art has been created merely to avoid real work. Perhaps even the first cave paintings.

Some things move slowly while others race along. My short bouts of work on Treq Lila have had long gaps between them. I've kept mum about it because I could only get permission to modify or share music made using Wolframtones after signing a contract with Wolfram Research. Every few months I've created a new track, or modified one, or discarded one I don't like.

At the very end I slimmed the album down a lot to make it stylistically coherent. I also added a new tune, 'Swirl', that's more energetic than all the rest. I put my favorite, the title song, at the very end.

So, it's short now, almost like a fragment of some longer album. And it's rather oddly divided in two parts, 3 tunes each, each part starting with a version of 'Lalla Aisha'. But I think that's okay. Someday I'll pull out all the stops and make an album of music that's all mine, but this is a curious man-machine hybrid, like a cyborg, and it's probably best to keep it terse and somewhat odd.
June 5, 2009
I got something great in the mail today: an invitation to visit the Centre for Quantum Technologies in Singapore starting in the summer of 2010. My wife Lisa already got a similar offer from the philosophy department of the National University of Singapore — one of the few places in the world that does serious research on both classical Chinese and classical Greek philosophy. We hope to visit Singapore for two years. It promises to be a marvelous adventure!

Meanwhile, the University of California system keeps taking budget cuts as the financial crisis shit hits the fan. The Chancellor of UC Riverside wants us to take 16 days of unpaid 'furlough', with 13 of them being on holidays — contradicting the usual definition of 'furlough'. The head of the University Committee on Faculty Welfare thinks this amounts to pretending that life can go on more or less as it has been, when it actually can't:

I think the problem with taking 'furlough' during holidays is that it sends a message to the legislature and the people of California that cutting money to the University of California will have no real effect — that we'll just soldier on bravely.

Anyway, it will be a good time to be on leave.
June 12, 2009
Today is my birthday.
The day before yesterday I gave the final exam in my undergraduate number theory class. The exam went from 7 pm to 10 pm — some of UCR's exams are late at night, because we have a shortage of classrooms. The next morning I graded the exam and entered the course grades. Then, at 4:30 pm Lisa and I went to the airport to catch a flight to Paris! It was a stressful, tightly timed business.
Due to some flight delays we arrived in Paris at 9:30 pm yesterday. Exhausted, we dragged ourselves to the metro, got out at Denfert-Rochereau, and walked to our apartment at 42 Rue Liancourt. We got there at 11 pm.
All of a sudden, life started getting better. We were met by the friend of the fellow who is renting us his apartment. He kindly served us a snack of wine, bread, cheese, strawberries and melons.
The apartment turned out to be much larger than advertised. It's a penthouse at the top of a 7-story building, with a 360-degree view of the city. It's ringed by a gardened patio, with a bamboo screen that provides privacy. We can eat outdoors and even almost bathe outdoors, because the bathroom has large glass doors to the patio, and a skylight.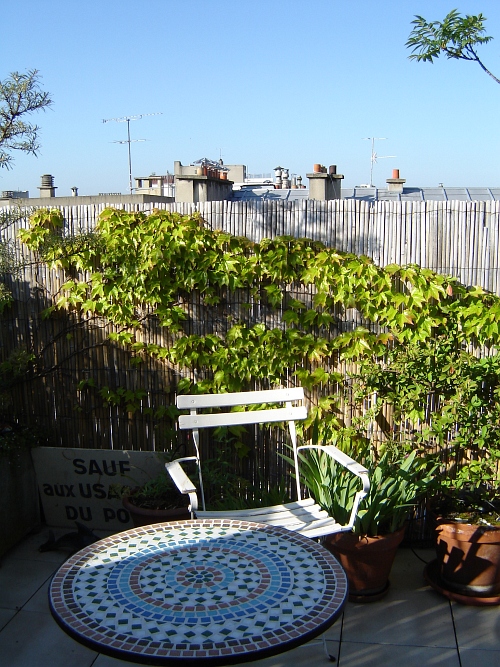 In short, it's so ridiculously luxurious that I keep thinking I'm in the first scene of a movie where black-masked ninja terrorists rappel up the walls of the building, break in, kidnap me, and torture me for the rest of my summer vacation. But, it hasn't happened yet. So, my birthday was very nice.
June 15, 2009
Still no ninjas. Lisa is trying to finish her book on divination. I've been polishing up my paper on the history of the earth for PhysicsWorld, and blogging about some work I did with James Dolan on algebraic geometry for category theorists. I'm also working with Paul-André Melliès on stuff like "the theory of cartesian closed categories". Along with my student Mike Stay, we're starting to figure out some good stuff.
And of course, Lisa and I are having fun walking around and admiring the city. We're quite close to the Montparnasse Cemetery, and fairly near an entrance to the catacombs — which I have not yet explored.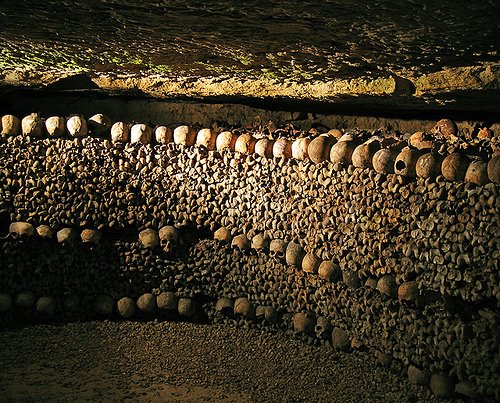 All this stuff is near Place Denfert-Rochereau, which explains why this square used to be called "Place d'Enfer", meaning Place of Hell — I guess "Enfer" is like "infernal". After the Franco-Prussian war it was renamed in honor of someone who fought well for the French, Pierre Denfert-Rochereau. But they did it because "Denfert" is pronounced just like "Denfer"!
June 18, 2009
A noteworthy story, passed on by my friend Steve Forcey.
Earlier this year the President of Peru, Alan García, sold the rights to explore, log and drill 70% of his country's portion of the Amazon rainforest to international oil and gas companies, saying "There are millions of hectares of timber there lying idle." But indigenous people live there. They blockaded the rivers and roads to keep the companies out.
García responded by declaring a state of emergency and sending in the military. On June 5th they opened fire on the protesters with live ammunition and stun grenades: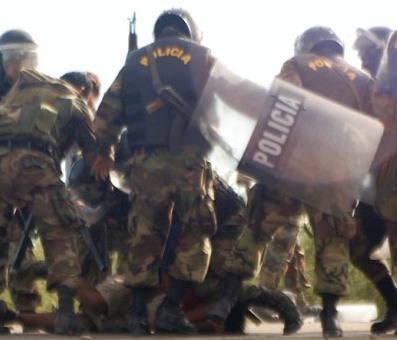 So far, nothing surprising. But then something surprising happened. The Peruvian Congress, presumably shamed by this incident, repealed the laws that allowed oil company drilling, by a margin of 82 votes to 12. Garcia was forced to apologise. The protesters have celebrated and returned to their homes in the Amazon.
But of course the battle is not over.
June 20, 2009
One of my great discoveries in Paris has been a little shop called Paris Jazz Corner at 5 Rue Navarre. The first floor is mostly devoted to vinyl albums, which is not my thing anymore, much as I support in principle such technostalgia... but the basement is packed with CDs, including some delightful ones I'd never stumbled over before.
I'm particularly enjoying Porgy and Bess by Miles Davis and Gil Evans. Well, this is very famous, so it was only my own sluggishness in acquiring everything by Miles Davis (whom I love tremendously) that kept me from getting to know it earlier... but the real suprises on this version of the album are a couple of "bonus tracks": two takes of a song called The Man I Love, played by a band that seems to have come out of a crazed jazz aficionado's fantasies: Miles Davis on trumpet, Milt Jackson, Percy Heath and Kenny Clarke (three quarters of the Modern Jazz Quartet) on vibraphone, bass, and drums... and Thelonius Monk on piano!
Bizarre! Such an unexpected combination of strong musical personalities. If you don't know jazz, just rock, imagine that you stumbled over a little-known song by Jimi Hendrix, David Byrne and Bob Dylan. The liquid, flowing line of Milt Jackson's vibraphone melody contrasts with the halting, angular style of Monk in a truly surrealistic way, and when Monk takes his solo as if he's from a dimension where time flows at a reduced rate... but somehow it works.
Hmm, now I see there's other stuff by Monk and the MJQ.
Adding to the fun, when Lisa and I visited this shop we bumped into Bill Messing, a mathematician who collaborates with Larry Breen. A couple of days later we met him again when we had dinner at Breen's place, but meeting people by chance like this is what makes Paris feel like a small town.
June 23, 2009
Paul-André and I went with Lisa to the Collège de France to hear a talk by her colleague Michael Nylan on the birth of classicism in China. Lisa's friend Anne Cheng was recently elected to the Collège de France, which is why I know that every professor there has to give lectures that are open to the public — once a week, I guess. This fascinated me — it's pretty unusual — so I was interested to see one. Unfortunately they're mostly in French, which I don't understand. So, it was nice to discover that the professors can also invite visitors to speak — and they're allowed to speak in English!
It was fascinating to hear about the first Chinese scholar to mention the pleasure of reading — Yang Xiong, who lived from 53 BC to 18 AD, near the end of the Han Dynasty. Before Yang Xiong, they only wrote about how reading made them tired. According to Michael Nylan, Yang Xiong said "books are sexier than women". I wonder how you say that in classical Chinese!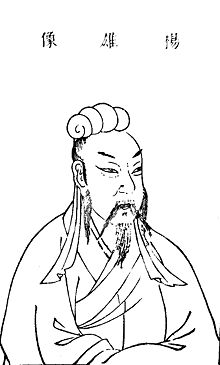 After the talk, Lisa and I went out for drinks with Michael and Anne, together with Marc Kalinowski, Karin Chemla and Christoph Harbsmeier. Among these leading lights of European sinology, I was the only one who didn't speak French. So, I was completely lost in the conversation until one of them kindly began simulteneously translation for me, which was even more humiliating. Oh well, it's probably good for me.
June 27, 2009
Wow! The House passed the Waxman-Markey bill, which would implement a cap-and-trade scheme for carbon emissions!
June 28, 2009
Iran's national poet, Simin Behbahani, has written a poem about the situation in Iran - the re-election of Ahmadenijad, followed by protests which the government has violently tried to crush. You can hear it here:

It is perhaps more of a malediction than a "poem" in the sense we may be used to. A portion, in translation:

If the flames of anger rise any higher in this land, your name on your tombstone will be covered with dirt. You have become a babbling loudmouth; your insolent ranting, something to joke about. The lies you have found, you have woven together. The rope you have crafted, you will find around your neck. Pride has swollen your head, your faith has grown blind. The elephant that falls will not rise.
June 30, 2009
My grandparents lived first near Grand Rapids, Michigan and then a bit further out in the town of Ada. When I visited I would hear them mention the city of Flint... nothing special, just another wholesome midwest city. So, I was shocked on my ride to the LA airport a couple of weeks ago when the taxi driver said he'd moved from Flint to Riverside, and that Flint had the highest crime rate in the US.

It turns out the declining US auto industry was the cause. A lot of ethnic groups who didn't get along, pulled in by auto jobs, now unemployed.

Now a correspondent has forwarded me this article about Flint, saying "This was shared with me as "bad" news, but I saw it as good."

Here's a quote:
The government looking at expanding a pioneering scheme in Flint, one of the poorest US cities, which involves razing entire districts and returning the land to nature. Local politicians believe the city must contract by as much as 40 per cent, concentrating the dwindling population and local services into a more viable area.

The radical experiment is the brainchild of Dan Kildee, treasurer of Genesee County, which includes Flint. Having outlined his strategy to Barack Obama during the election campaign, Mr. Kildee has now been approached by the US government and a group of charities who want him to apply what he has learnt to the rest of the country.

Mr. Kildee said he will concentrate on 50 cities, identified in a recent study by the Brookings Institution, an influential Washington think-tank, as potentially needing to shrink substantially to cope with their declining fortunes. Most are former industrial cities in the "rust belt" of America's Mid-West and North East. They include Detroit, Philadelphia, Pittsburgh, Baltimore and Memphis. In Detroit, shattered by the woes of the US car industry, there are already plans to split it into a collection of small urban centres separated from each other by countryside.

"The real question is not whether these cities shrink — we're all shrinking — but whether we let it happen in a destructive or sustainable way," said Mr. Kildee. "Decline is a fact of life in Flint. Resisting it is like resisting gravity."

Karina Pallagst, director of the Shrinking Cities in a Global Perspective programme at the University of California, Berkeley, said there was "both a cultural and political taboo" about admitting decline in America. "Places like Flint have hit rock bottom. They're at the point where it's better to start knocking a lot of buildings down," she said.

Flint, sixty miles north of Detroit, was the original home of General Motors. The car giant once employed 79,000 local people but that figure has shrunk to around 8,000. Unemployment is now approaching 20 per cent and the total population has almost halved to 110,000. The exodus — particularly of young people — coupled with the consequent collapse in property prices, has left street after street in sections of the city almost entirely abandoned.

In the city centre, the once grand Durant Hotel — named after William Durant, GM's founder — is a symbol of the city's decline, said Mr. Kildee. The large building has been empty since 1973, roughly when Flint's decline began.

Regarded as a model city in the motor industry's boom years, Flint may once again be emulated, though for very different reasons.

But Mr. Kildee, who has lived there nearly all his life, said he had first to overcome a deeply ingrained American cultural mindset that "big is good" and that cities should sprawl. Flint covers 34 square miles. He said: "The obsession with growth is sadly a very American thing. Across the US, there's an assumption that all development is good, that if communities are growing they are successful. If they're shrinking, they're failing."

But some Flint dustcarts are collecting just one rubbish bag a week, roads are decaying, police are very understaffed and there were simply too few people to pay for services, he said.

If the city didn't downsize it will eventually go bankrupt, he added.

Flint's recovery efforts have been helped by a new state law passed a few years ago which allowed local governments to buy up empty properties very cheaply. They could then knock them down or sell them on to owners who will occupy them. The city wants to specialise in health and education services, both areas which cannot easily be relocated abroad.

The local authority has restored the city's attractive but formerly deserted centre but has pulled down 1,100 abandoned homes in outlying areas. Mr. Kildee estimated another 3,000 needed to be demolished, although the city boundaries will remain the same.

Already, some streets peter out into woods or meadows, no trace remaining of the homes that once stood there.
I'm reminded of Eric Smith's amazing photographs of Detroit's Michigan Central Station: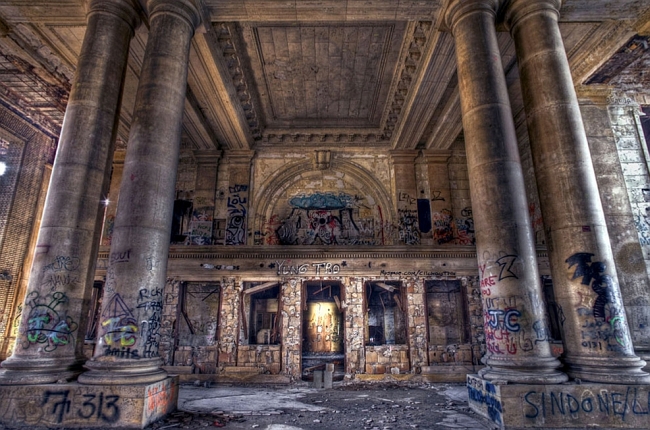 You should really see them on your full screen:
---
Music inhabits us in a literal sense. It invades the parameters of the body and takes root, almost systemically, even when we would rather have silence. It is why we refer to "haunting melodies." Music, like spirits, is attributed with an agency of its own. It can possess us. - Deborah Kapchan
© 2009 John Baez
baez@math.removethis.ucr.andthis.edu