Diary - December 2010
John Baez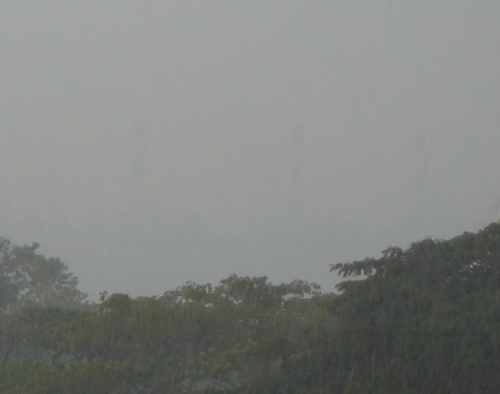 If you stare hard you can see the usual three chimneys. This photo was taken when Singapore was shrouded in haze from dozens of fires in Sumatra. For about a week, the air quality was really bad.
December 8, 2010
It's interesting to see what Julian Assange, the head of Wikileaks, thinks he's doing:

For a thorough listing of the new Wikileaks revelations, including some that you don't tend to see on American media, try:
December 3, 2010
Lisa and I went downtown and had dinner in Clarke Quay. Sitting in a bar overlooking the river after dinner, we saw what appeared to be a UFO swooping and diving amid some trees across the river. We crossed a bridge and walked over to the vacant lot next to the Swissotel, and saw that in fact there were a number of these flying, glowing things. They turned out to be RC kites: radio-controlled, propeller-driven kite-like aircraft, lit up with LED lights. Some kids were making them fly complicated maneuvers, and they jokingly dive-bombed Lisa and me as we stood there gawking, without actually hitting us. They were standing in this field:
It turns out there's a fad for RC kites in Singapore, which was started by a guy named Michael Lim. He is now about 60, but he is still flying RC kites, and we think we saw him out there in that field, flying the biggest and best one.
There's something peculiarly Singaporean about this. Most of the RC kite fliers were teenage males, and rap music was blaring out of an industrial-strength speaker system — a situation I associate with unruly youthful rebellion. But the undisputed master was this guy who looks like, and probably is, a retired businessman. This and other things, like the mix of races involved (both Chinese and Indian), quickly made the situation seem a lot less threatening that it did at first. And that's Singapore for you.
Here's video made at this location. It starts out focused on the bar Lisa and I were in, and then pans around to the woods full of RC kites:
December 9, 2010
Marko Galac posted these photographs of artworks in the rapidly transforming downtown of Shanghai.
December 11, 2010
Tonight, Saturday night, we saw LED kites outside our apartment window, like glistening insects flying in front of the chimneys that have graced the top of every diary page for the last few months. I guess we hadn't noticed these until we were sensitized by last weekend's encounter with the RC kites! But this time what we saw were actual kites, lit by LED lights and flown at night.
(It later became clear that they come out every Saturday, down at the park by the sea.)
December 12, 2010
The day before yesterday, Lisa and I watched the Nobel Peace Prize ceremony, with the head of the Nobel Committee, Thorbjorn Jagland, giving a fiery speech, and Liv Ullmann reading Liu Xiaobo's remarkable closing statement from his trial: I Have No Enemies: My Final Statement. You can watch it here, and I hope you do.
Now a friend is visiting us. She came from Beijing. She was surprised and pleased to find that in Beijing, many people were criticizing the government for their absurd reaction to Liu Xiaobo's prize. Taxi drivers. Artists at parties... not just whispering, but openly complaining. So, while the authorities can carry out their crackdown, it is not working.
December 23, 2010
Here are some interesting reflections on the Wikileaks case and cypherpunk culture:
December 24, 2010
Happy Holidays! Lisa and I are taking off for Vietnam tomorrow. We'll spend seven days in Hanoi and five days in Huế, which was the imperial capital of the Nguyễn Dynasty until 1945. In Hue we'll be staying with our friends Gene and Barbara Anderson. We'll be staying in the Heritage Hotel, right across the Perfume River from the citadel and imperial palace.
---
Move the needle of your radio receiver along the short-wave band. Between the foreign voices and the alien anthems crowding the invisible frequencies, there stretches a deep gulf. The gulf is filled with an enormous hissing, and sometimes with a prolonged, humming blaze, like wires stretched between the stars.... You are listening perhaps to what the Hindus call ākāśa: the dark which has no end. - Christopher J. Koch

© 2010 John Baez
baez@math.removethis.ucr.andthis.edu