Diary - September 2009
John Baez
September 1, 2009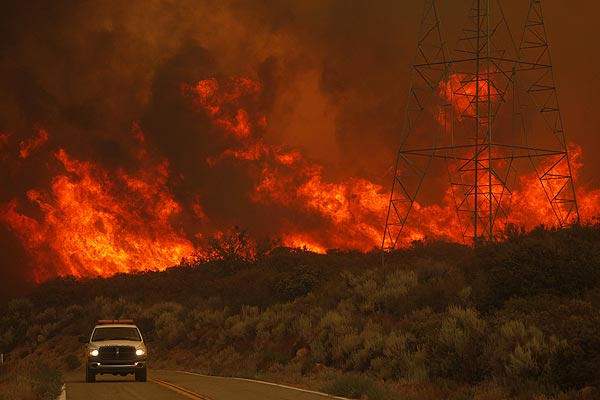 A firefighter retreats on Aliso Canyon Road in Acton as the Station fire rages

Genaro Molino,

Los Angeles Times

, August 30




Last month there were fires charring over 525 square miles (135,000 hectares) of land in California — most notably the Station Fire in the forests north of Los Angeles, which so far has burned 246 square miles (63,000 hectares). And it's not even the fire season yet!





Everyone seems to agree that a major cause of these huge fires is a long-term Forest Service policy of putting out every fire as quickly as possible. Most of the brush in the Station Fire region had not burned in 60 years.

Then, of course, there's the drought.

But the big questions in my mind are: at this rate, how many years it take for all the most of the old brush to burn? Will the forests recover? Or will the combination of intensely hot fires killing trees that can withstand normal fires and drought induced by global warming, mean that many fire-affected areas will permanently change character. Will they become grassland or chaparral instead of forest? In other words: is this a temporary nuisance or part of long-term shift in climate?

Does anyone have a good guess?

On September 9th, Martin Gisser responded:
My "guess", it's plain physics: Global temperature rises, so tropical belt expands, pushing polewards the subtropics and their arid zones.

Result:
Forests in new arid subtropic regime burn until they are gone. It may take a decade or two. There's some self enforcing feedbacks built in: Less forest, less water held. Occasional rain gushes will wash away what's left of soil, which makes it harder for forest to regrow.

See also southeast Australia, they are a few years ahead. Southern Europe will follow California.

Reuters, The dramatic rise in Western forest fires: is climate change to blame?, September 2, 2009.

Climate Progress, Global warming, California, and what a 1-degree temperature increase means for wildfires, September 1, 2009.

Climate Progress, An introduction to global warming impacts: Hell and High Water, March 22, 2009.
It looks like a lot of people were asking the same question at almost the same time! Since Reuters news articles have a disturbing habit of disappearing, let me quote that one:
PRINCETON, N.J., Sept. 2 /PRNewswire-USNewswire/ — Blaming a specific forest fire on the impact of climate change could be asking for trouble; but so too is ignoring obvious trends. That was clear last night from The NewsHour with Jim Lehrer on PBS when Climate Central, an emerging authority on global warming, explored the dramatic increase in forest fires in Washington State over the past few decades.

Correspondent Dr. Heidi Cullen, Climate Central's Senior Research Scientist, interviewed forest ecologists who see evidence that ecosystems of the Pacific Northwest's once vibrant forests are under duress because of global warming. Some observers believe that fire management practices by the U.S. Forest Service may help account for the increase in fires. Climate Central, in keeping with its mission to provide objective information on climate change, went deeper.

Dr. Cullen reported that in Washington State, "Average spring temperatures have risen nearly three degrees since 1950. Natural variability makes some years cooler or hotter. But records show an overall warming trend."

Climate Central reported that since the late 1980s, dramatically more land burned in Washington and the American West than in the two decades prior — and that these trends are closely associated with warming temperatures, earlier snowmelt, and drier forests. In addition, a University of Washington forest ecologist pointed to epic outbreaks of the mountain pine beetle — now pervasive in northwestern forests deep into Canada - as another consequence of warming temperatures. The voracious beetles have turned great swaths of Northwest trees into deadwood, with subsequent fires scarring the landscape for generations.

Climate Central's Executive Director, Dr. Berrien Moore, who ranks among the world's most highly regarded experts on climate change, commented, "It is troubling but not surprising that climate change could be altering patterns of very small pests and disease. And, that this could lead to an increase in very large and destructive wildfires. Such is the reality of our connected planet."

Dr. Cullen, whose work on climate change has taken her from the tropics to the North Pole, provided the kind of additional context and information that has become the hallmark of Climate Central's reporting. She explored the dynamic and profound consequences that the timing of spring snowmelt can have on a forest ecosystem. The data, folded into a mini science lesson — suggest that the Northwest could develop a very different appearance in the decades ahead.

Last night's special report, informally titled "Washington: Warming and Wildfires," featured interviews with:

Dr. Susan Prichard / University of Washington
Rita Kenny / Winthrop, WA
Peter Goldmark / Public Lands Commissioner of Washington
Doug Mohre / Winthrop, WA
Roger Townsend / Twisp, WA
Dr. James Agee / University of Washington
Becki Heath / US Forest Service

The story was produced in a partnership between The NewsHour and Climate Central, a non-profit, non-advocacy group of scientists and journalists. "Washington: Warming and Wildfires" is the fourth in a series of reports about the local and regional impacts of and solutions to climate change being produced by Climate Central.

Climate Central's website will supplement the video with line-by-line background on the science and sources behind the story — providing additional explanation and depth for the television segment, and highlighting the scientific care that went into creating the video.

"Washington: Warming and Wildfires" is now available to view at www.climatecentral.org.
See also the transcript of the NewsHour show.
September 8, 2009
What country is as large as Western Europe, with a population of under 3 million people, and where wages have dropped 60% due to global financial crisis?
September 9, 2009
I'm at Texas Christian University, in Forth Worth, giving a bunch of talks at the math department: Then I fly back to Riverside on Thursday night... and then Friday, Lisa and I will fly to Corfu! There I'll give talks on Categorification in Mathematical Physics at 2nd School and Workshop on Quantum Gravity and Quantum Geometry, as part of the Corfu Summer Institute.

In short: busy running around burning carbon. I agreed to give these talks before I cracked down on my travel and started refusing lots of invitations...
September 22, 2009
In Corfu I learned a lot about what has been going on in loop quantum gravity over the last few years — see "week280" of This Week's Finds for some of that. Here are some pictures from my trip.
Out the hotel window: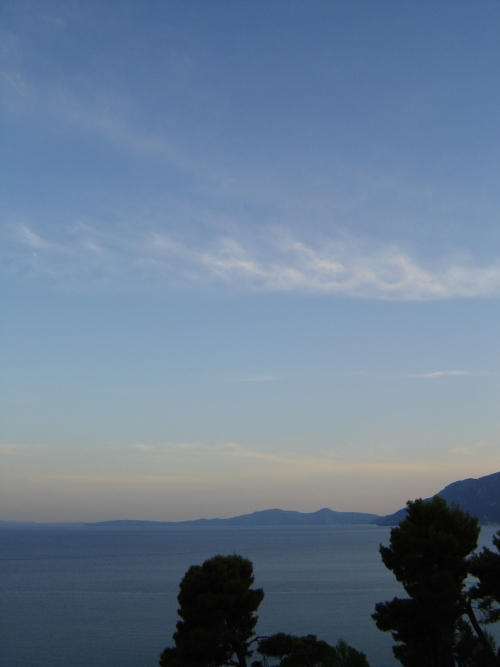 At the Achileon: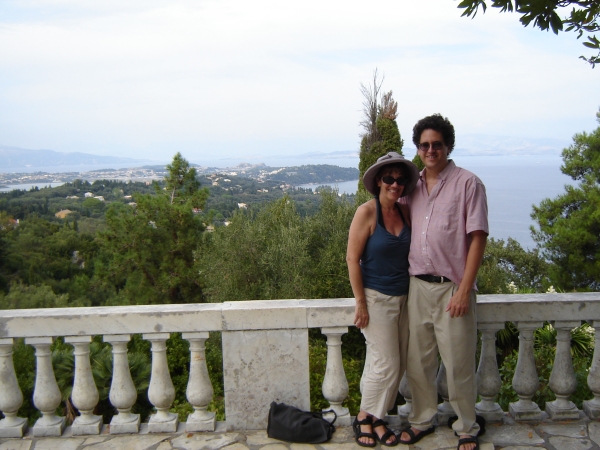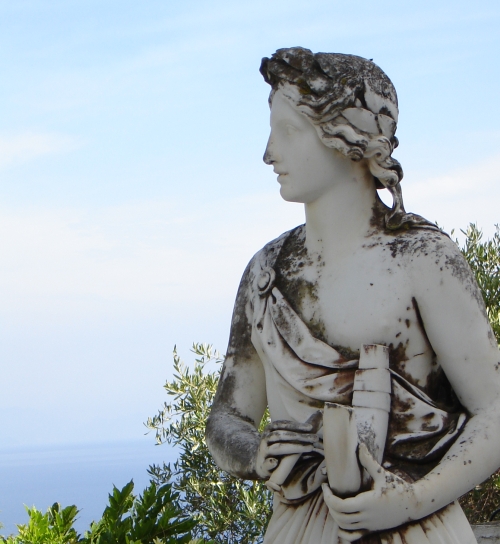 From a boat tour in Paleokastritsa: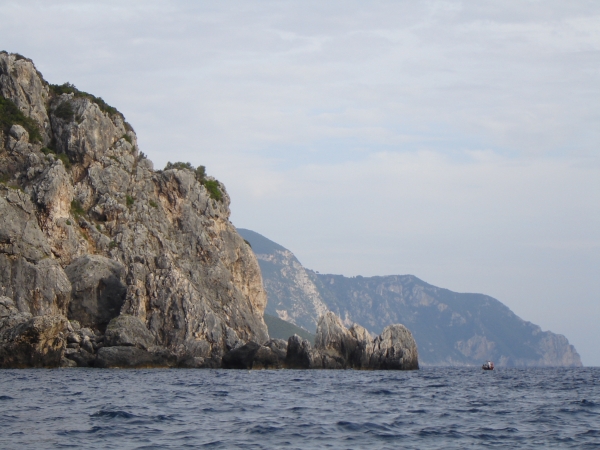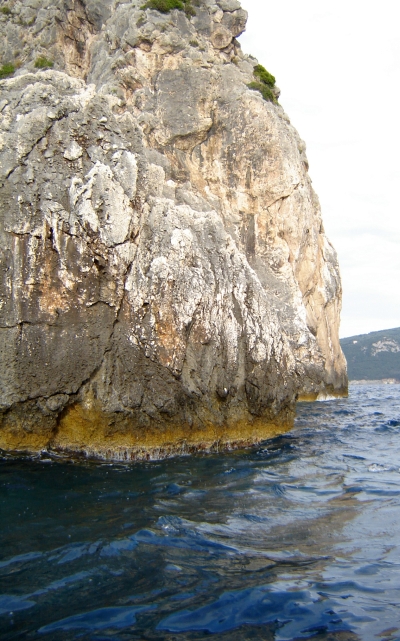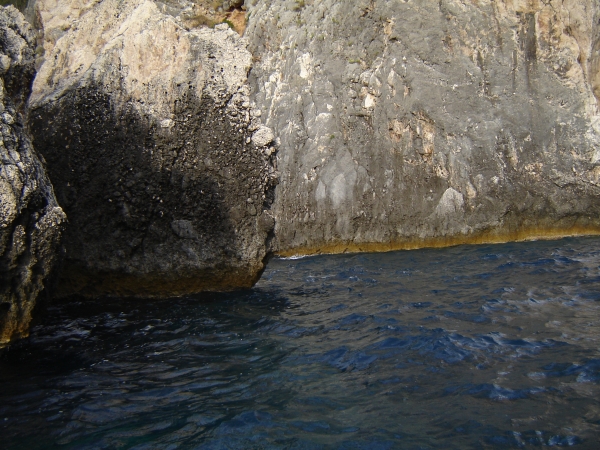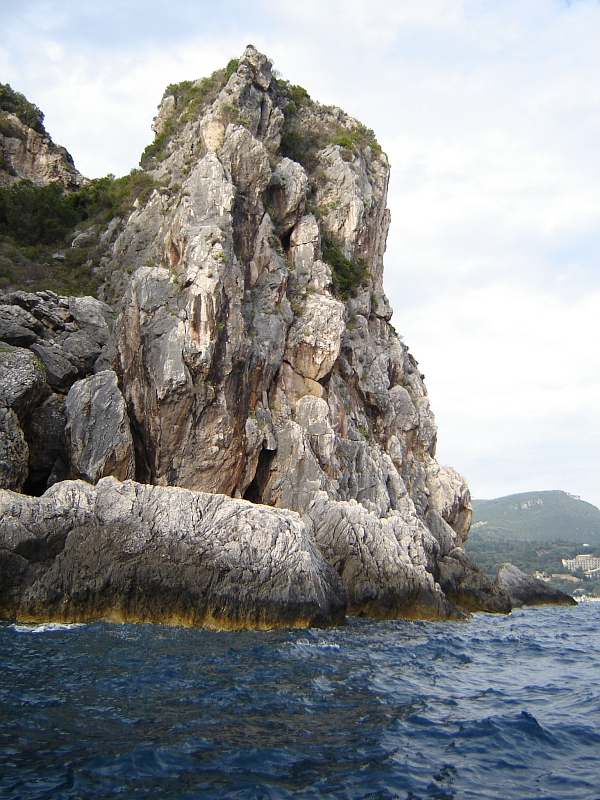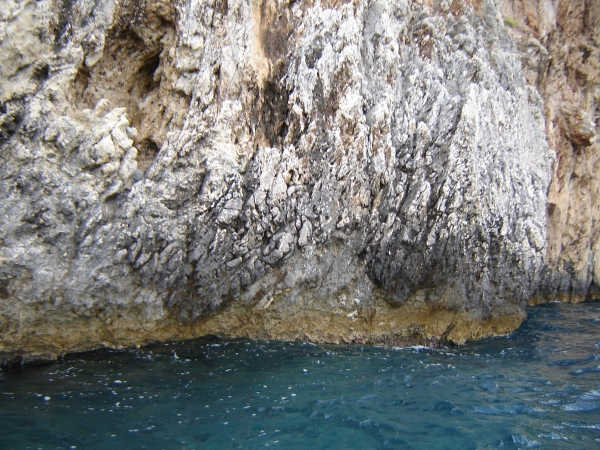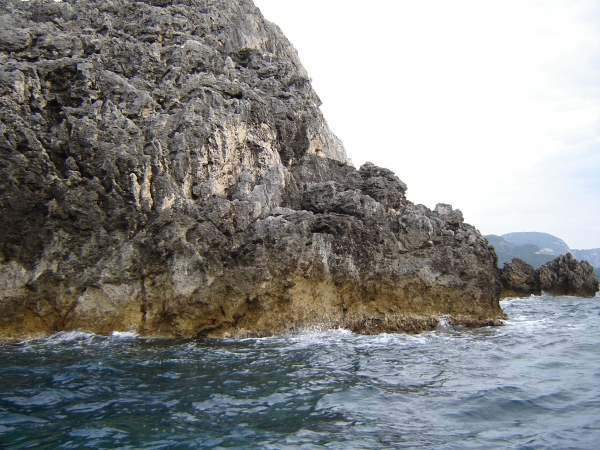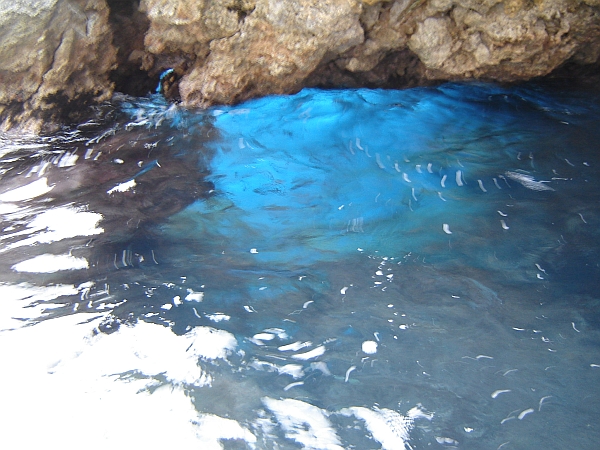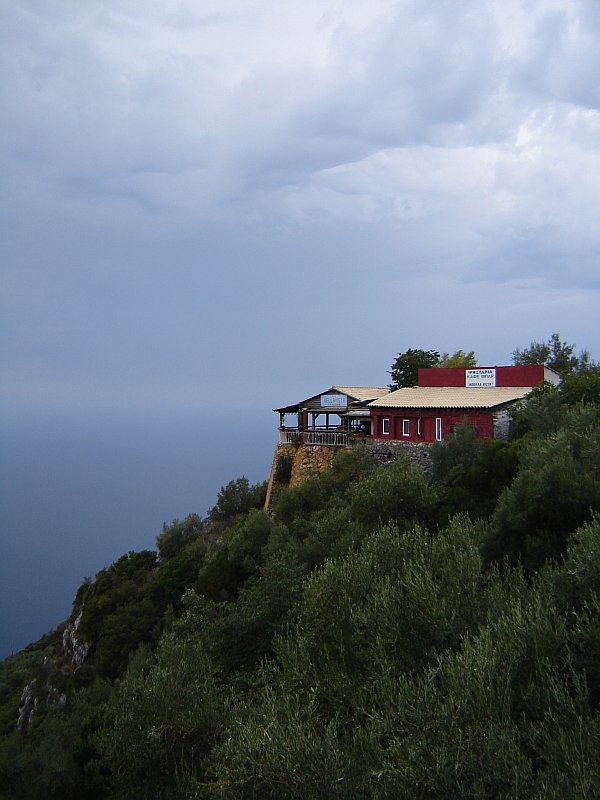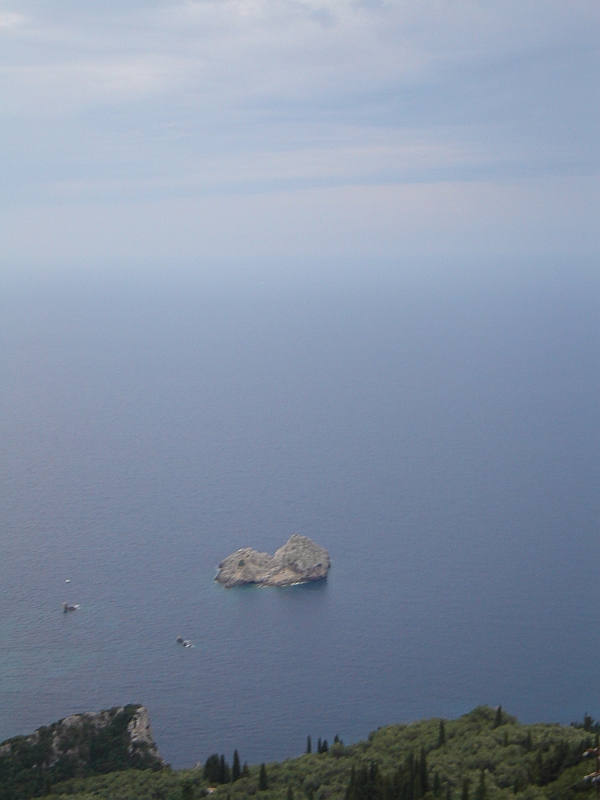 From the town of Corfu: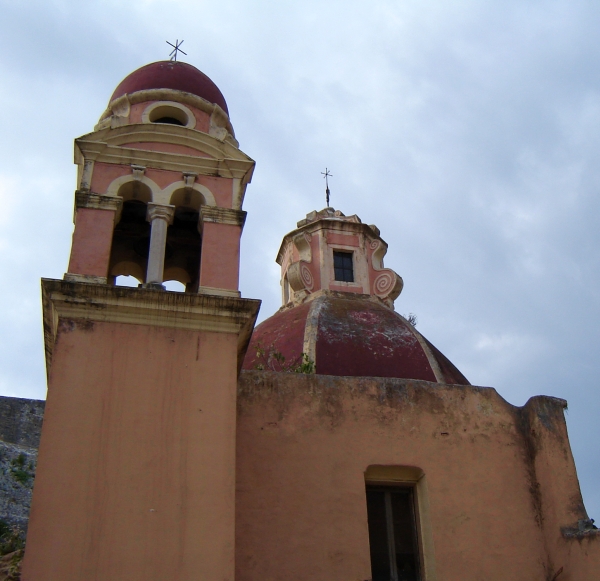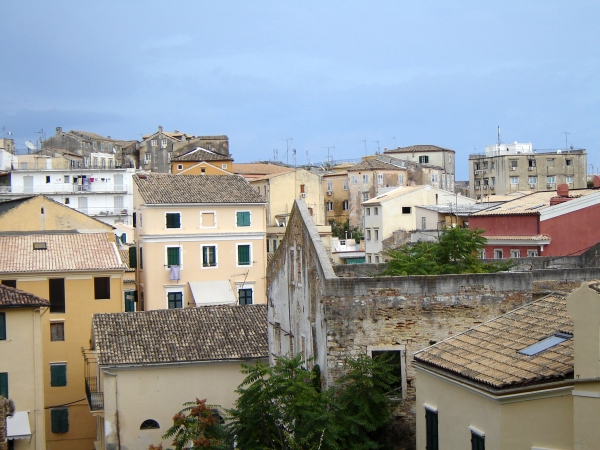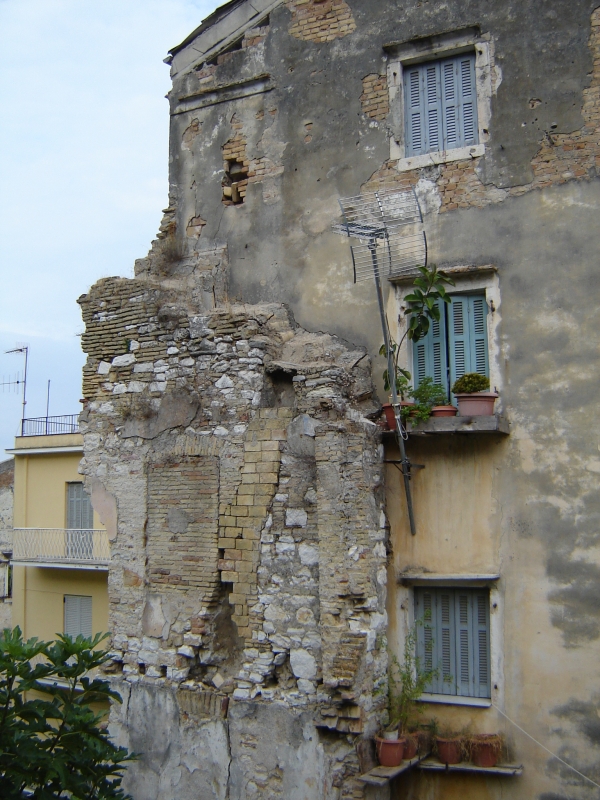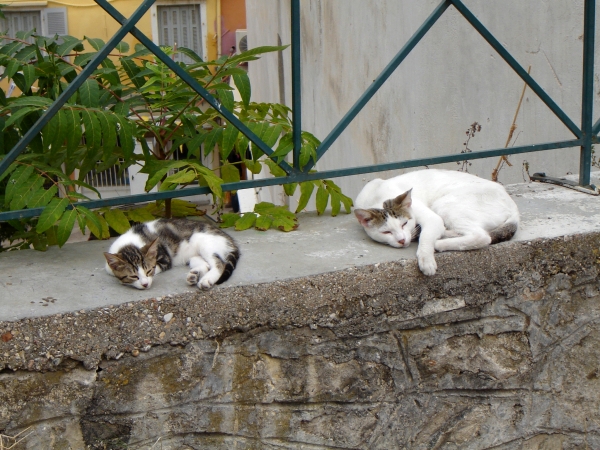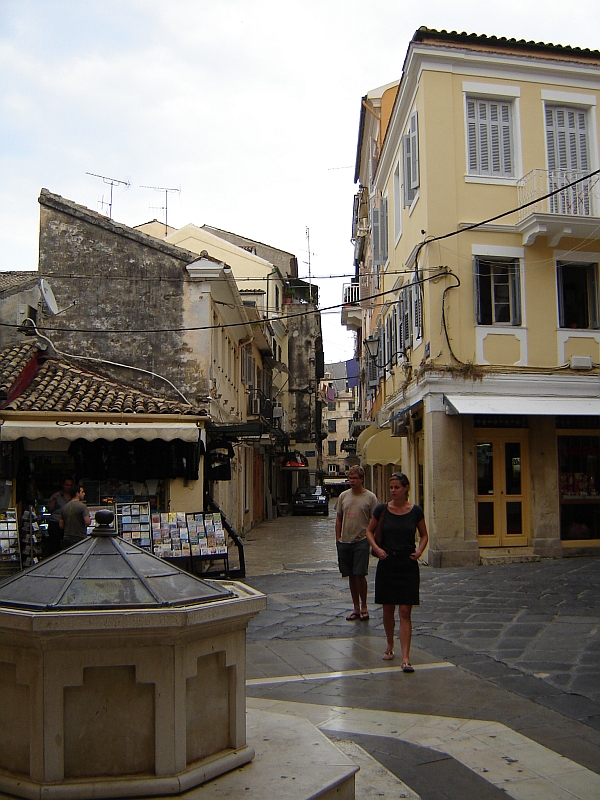 September 24, 2009
The budget crisis in California has forced faculty to take so-called "furloughs" where get pay cuts but don't actually do any less work: we can take days off, but not on days we're teaching. Meanwhile students will be paying higher fees. There was a big protest of this throughout the UC system today, with walkouts and strikes.

Recently Deborah Simons of the New York Times interview Mark Yudof, the president of the University of California. It got a lot of UC faculty enraged. For example:
Deborah Simons: Already professors on all 10 U.C. campuses are taking required "furloughs", to use a buzzword.

Mark Yudof: Let me tell you why we used it. The faculty said "furlough" sounds more temporary than "salary cut," and being president of the University of California is like being manager of a cemetery: there are many people under you, but no one is listening. I listen to them.

DS: The word "furlough," I recently read, comes from the Dutch word "verlof," which means permission, as in soldiers' getting permission to take a few days off. How has it come to be a euphemism for salary cuts?

MY: Look, I'm from West Philadelphia. My dad was an electrician. We didn't look up stuff like this. It wasn't part of what we did. When I was growing up we didn't debate the finer points of what the word "furlough" meant.

DS: How did you get into education?

MY: I don't know. It's all an accident. I thought I'd go work for a law firm.

DS: Some people feel you could close the U.C. budget gap by cutting administrative salaries, including your own.

MY: The stories of my compensation are greatly exaggerated.

DS: When you began your job last year, your annual compensation was reportedly $828,000.

MY: It actually was $600,000 until I cut my pay by $60,000. So my salary is $540,000, but it gets amplified because people say, "You have a pension plan".
Later it turned out that Deborah Simons specializes in taking long interviews and chopping out pieces that sound outrageous.
September 26, 2009
My aunt pointed me to this charming article about Imen Shan, a specialist in dan cong oolong teas who runs a shop called Tea Habitat:
September 27, 2009
Having finished all the big nasty papers I had to write, I'm making more time in my life for other things. My wife does tai chi most mornings. I'm not doing that, but I've joined her for the preliminary stretching exercises. Over the last few years I've been getting stiffer, doubtless from lack of stretching — too much time sitting in front of a computer. I used to find stretching unpleasant: it hurts a bit, and it forcefully reminds me of my physical limitations. But it turns out to be really nice to get up in the morning, go outside into the paradise that is our back yard, and do a little stretching while listening to the birds, smelling the fresh cool air, and gently getting rid of that creaky feeling that plagues me in the morning. It's a bit like meditating, without all the mind games that can go along with that.

I recently discovered that I have high blood sugar, a sign of incipient type 2 diabetes. So, I'm also changing my diet. I will have another blood sugar test soon and talk to my doctor about exactly what I need to do. But I'm getting started now.
---
... we abandoned ourselves to television, the box that separates the dreamer from the dreaming. - Joy Harjo
© 2009 John Baez
baez@math.removethis.ucr.andthis.edu