Diary - September 2011
John Baez
September 1, 2011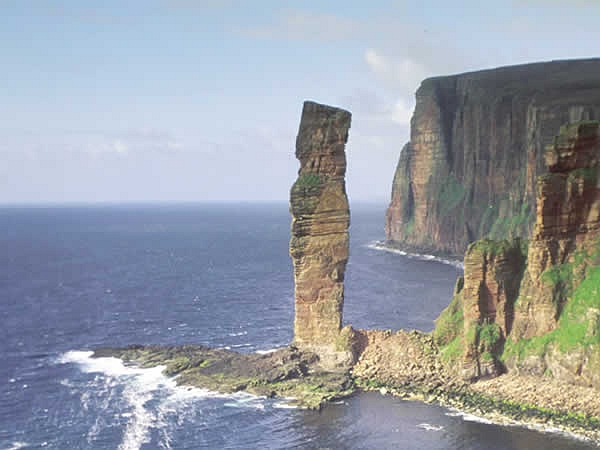 My August 2011 diary started with a photo of a "sea" stack". One of the most unearthly sea stacks in the world is the Old Man of Hoy, on the western shore of the island of Hoy, one of the Orkney Islands in Scotland. It's 137 meters high and consists of red sandstone on a base of basalt. It's less than 400 years old, and it may not last much longer! This photo is from the Hemlington Nautical History Society's webpage.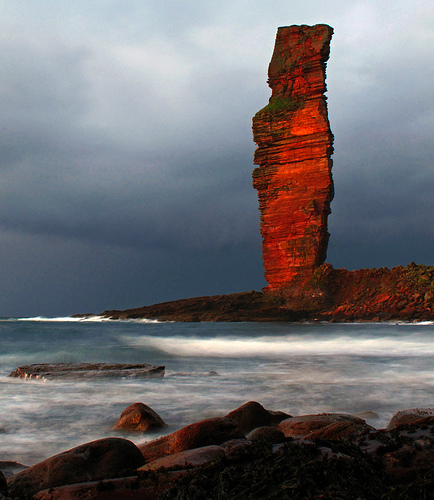 This is an almost nightmarish view of the Old Man of Hoy, uploaded to Flickr by Mike Martin, who wrote:
It was fairly unique conditions; I scrambled down there during a hailstorm on the off chance it would pass, and it did about 5 minutes before the sun went down. I think the wet rock and low sun combined to really bring out the red in the sandstone. I also forgot the quick release for my tripod so I had to balance the camera on a rock for the 4 second exposure. I took photos until another hailstorm hit then had to find my way back to Rackwick in the dark whilst being pelted by hail with no headtorch!
September 17, 2011
Today Lisa and I flew to Lombok, the island due east of Bali. We'd chosen to stay at Hotel Sunset on the coast south of Senggigi. It was a great place. By the time we got there, we didn't have time for much more than dinner. We went to a small restaurant named Bamboo on the road up to Sengiggi. There we met a fellow named Han who offered to show us around for a reasonable fee.
September 18, 2011
We took Han up on his offer, so we drove around in an SUV with him and a driver. I don't like SUV's, but that's what all these tour guides use.

Today we went to a small town near Mataram where they do weaving. As we drove there and back, we saw four wedding processions — it's Sunday, and that's when people have them. These processions cap off what sounds like a long and complicated process. First the man and woman agree to get married. Then the man 'steals' the woman from her family... they sneak off. Then he agrees to pay the price demanded by her family - though if my understanding of local culture is any guide, some bargaining might be involved. A well-educated woman can cost a lot, because high school and college are not free here, and the woman's family wants to recoup the money they spent on raising her. Younger, less-educated wives are cheaper.

The grim, ashen-faced fellow at left is the groom. He was on the verge of tears. We never found out why.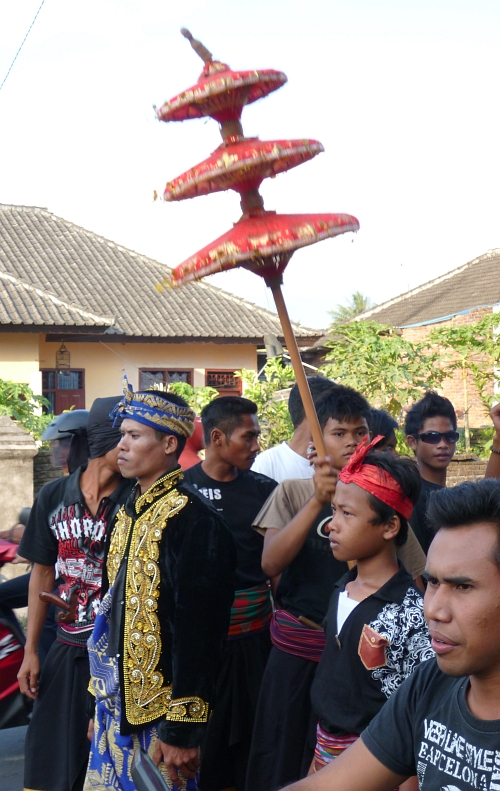 On Google+, "finch wench" asked:
Is the demand for the more mature educated woman higher than for the younger "investments?"
I answered:
Good question! I don't really know. Our guide told us that most couples marry at the age of 20-23, and do this in order to "have fun": in the villages, at least, premarital sex is a serious no-no. This doesn't suggest a high overall demand for more mature, educated women. But there must be lots of different social strata with different habits. For example, only 15% of the people in Lombok are Balinese, but they're very wealthy and powerful: the Balinese invaded Lombok some centuries ago and though they've been pushed back by the native Sasaks, they're still play an important role.

(The Balinese are Hindu, the Sasaks are Muslim. I'm sort of bummed that I missed going to the only temple in the world where Hindus and Muslims both worship! That would have been interesting.)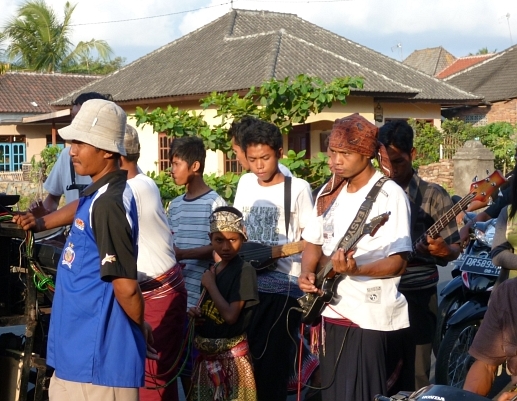 In a wedding procession on Lombok, the bride's family officially 'meets' the groom's family — though they've actually spent the previous evening partying together. So it actually starts as two separate processions, walking toward each other down the street. And each one has a band! Above you can see two guys playing electric guitar — but at left, hard to see, there's a guy playing keyboard. There's also a singer, not shown here — and in front of the whole crew, kids gyrate wildly to the deafening music.
All this is a substitute for the more traditional gamelan. We saw one of those at the wedding procession of a more wealthy couple.
On Google+, Harrison Brown asked:
Is there any attempt by these bands to imitate the traditional gamelan sound? Or is the music they play more Western-influenced?
I answered:
These bands don't seem to be imitating gamelan music at all. Different bands I heard played in different styles. This particular one sounded a bit like Indian pop music to my uneducated ear. However, there are many styles of Indonesian pop music, as you'd expect from an ethnically diverse country with hundreds or even thousands of islands... and I'm sure they were playing one of these styles.
Later our guide took us to Mataram, the capital of Lombok, and we bought a pirated DVD containing 13 CD's worth of Sundanese gamelan music for the equivalent of $1.20. I love this Sundanese stuff.
Our guide had a DVD of "pop Sunda", which is strongly gamelan-influenced music played on modern instruments — somewhat cheesy synthesizers and drum machines, but still fascinating. I was unable to copy it, but now I'm in Ubud and I'll try to buy some CD's of this.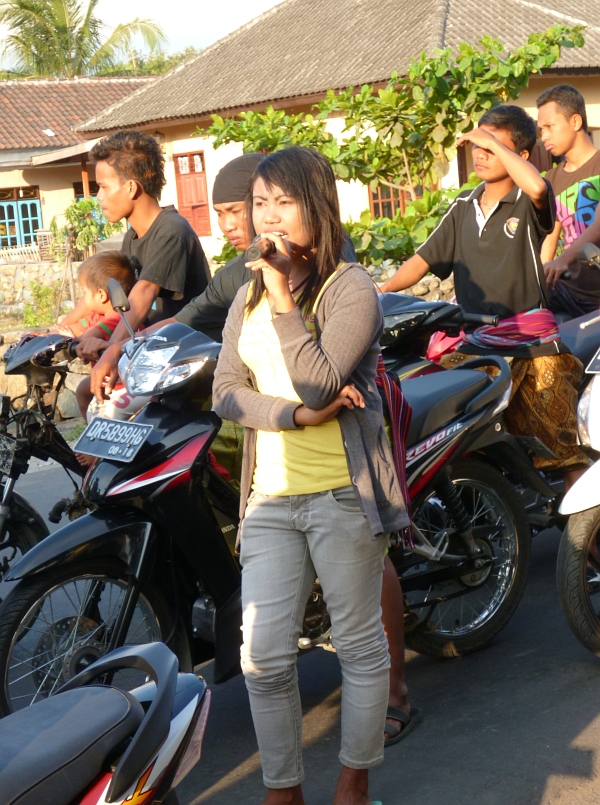 Here's the singer of that band, surrounded by a scrum of motor scooters. On Sundays, these wedding processions bring traffic to a halt in small towns all over Lombok. Even though our driver had been a cabbie in Malaysia — which sounds like the ultimate qualification for fighting through crowds — he gave up and pulled over. So we hopped out and photographed these scenes.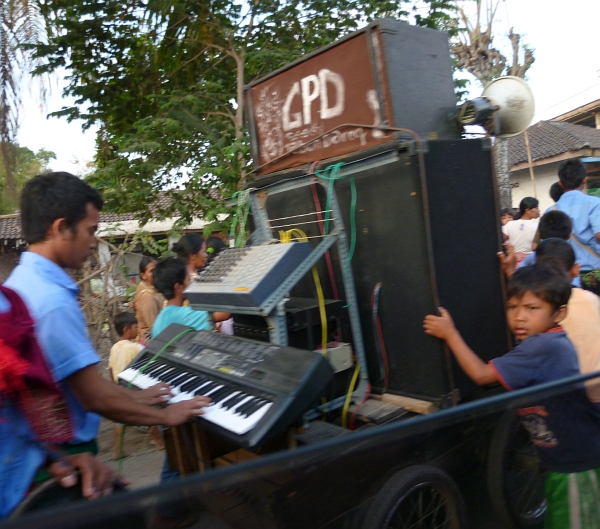 Here's the keyboard player for that wedding procession band. What's cool is that the synthesizer is connected to a sound board and bank of speakers... all on a wheeled cart! The band has its name emblazoned on the front of the cart.
This appears to be typical gear for weddings here on Lombok.
September 19, 2011
Today Han took us up Senaru, a town on the northern slope of the big volcano called Gunung Rinjani that dominates the island of Lombok.
As we began our drive north along the coast, I couldn't help noting that while the ocean is beautifully blue and the palms make the place look like a tropical paradise: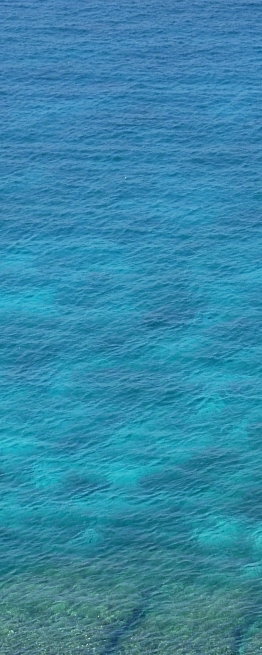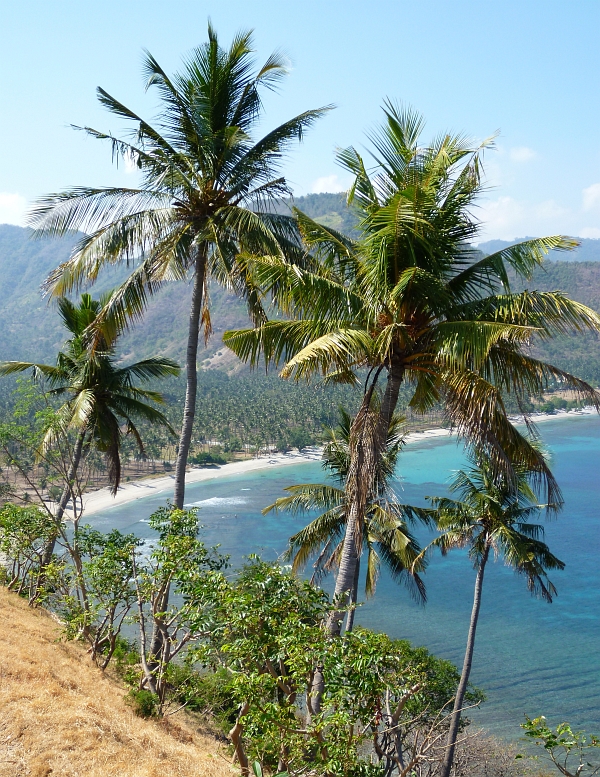 ... the land is actually quite dry at this time of year — as witnessed by the dry grass here. It's less lush than Bali. The cattle are thin now, grazing on what little they can find. But later in the autumn the rains come, and — according to Han — the grassy hillsides spring to life!
From Senaru we hiked to two waterfalls in Gunung Rinjani National Park. The first one bursts spectacularly out of the jungle foliage: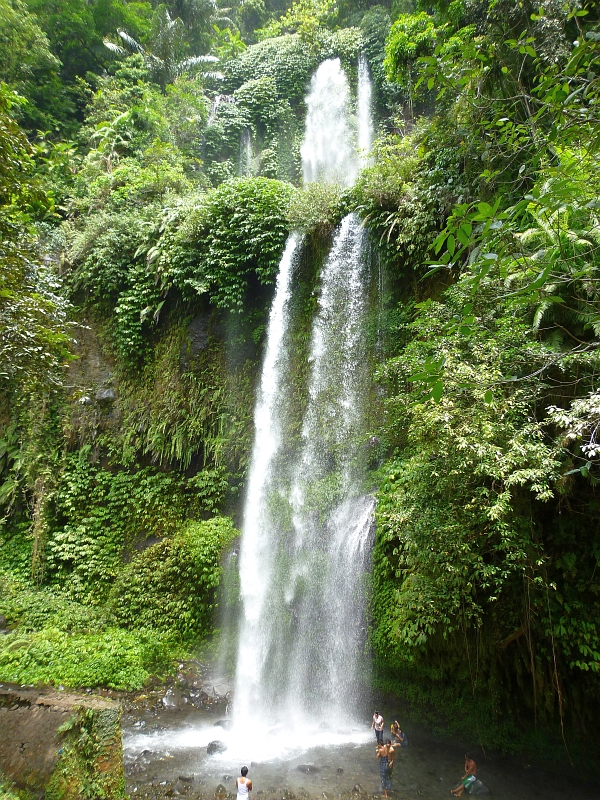 It's called Sendang Gila, and it's a popular tourist attraction because it's only a 20 minute walk from Senaru. Not too crowded today, though.
Getting to the second waterfall was considerably more work. After a bit of steep hiking we had to cross the Bridge of Horrors, shown here: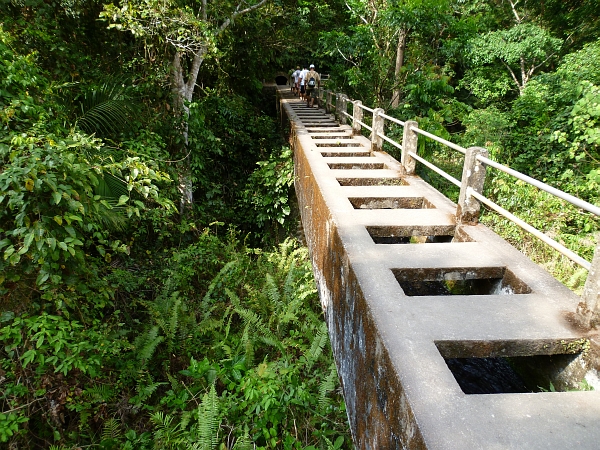 Well, that's just my own name for it, because I have a bit of acrophobia. It has a railing on one side but not the other — and it has large holes, which reveal its true purpose: it's an aqueduct! The canal I showed you earlier flows through this bridge across the deadly, fearful chasm below.
After gazing dizzily downwards for a minute — it's really further down than it looks here — I got a mental grip on myself, repeated the mantra don't look down, and crossed with no problem.
Then we walked along a canal — one of many that carries cold, clear water down from the volcano's jungle-covered slopes to the complex irrigation system that waters the terraced farms of Lombok: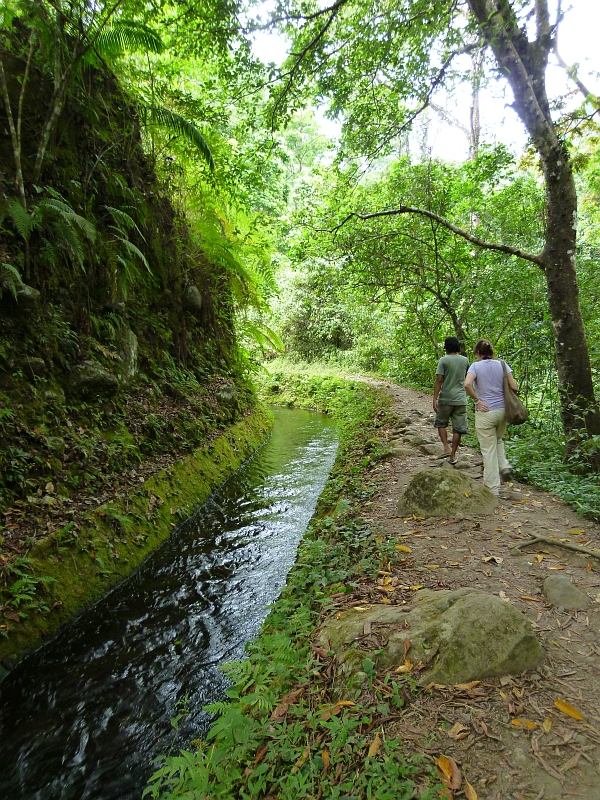 It should remind you of the irrigation system on Bali, which I showed you in "week303". The Dutch built the stuff made of concrete: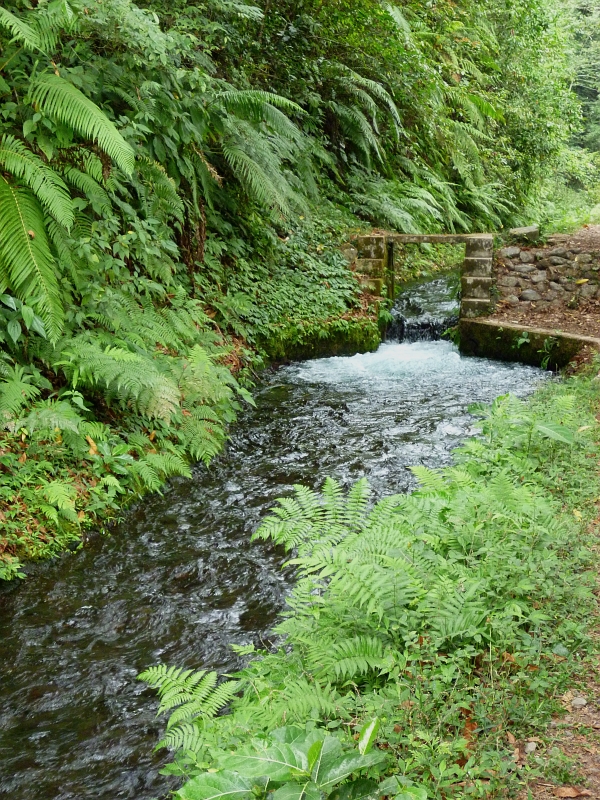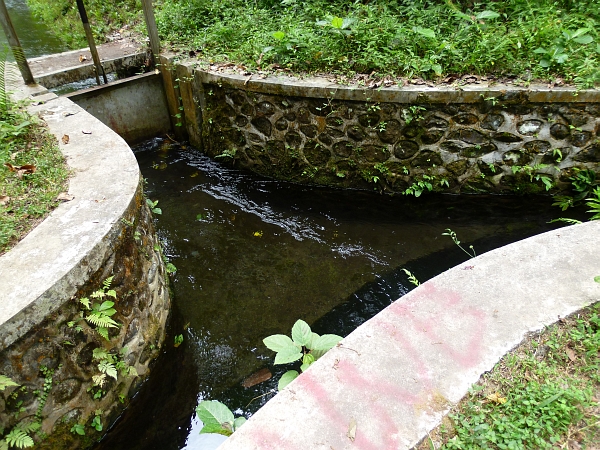 Here's the second waterfall we saw: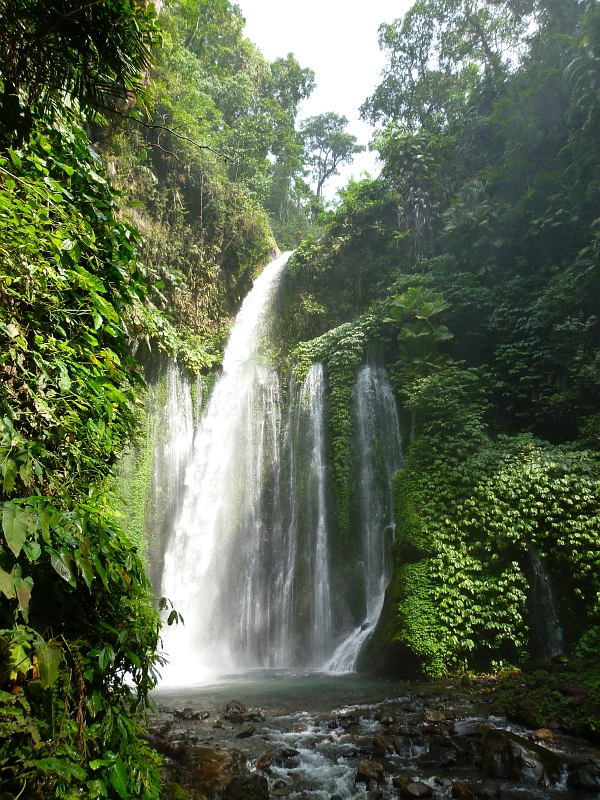 It's called Tiu Kelep. After crossing the Bridge of Horrors, it took about 45 minutes to get there. Towards the end we needed to walk through the stream. The most exciting moment was when I slipped, reached out to a large rock to steady myself, and then noticed this rock was covered with insects of a kind I'd never seen before... ants, probably, but red and white, and strangely fuzzy. They sensed my hand and mounted a massive swarming attack. A real Indiana Jones moment.
Little things like this make reaching the final goal that much more delightful.
Here are some more 'artistic' shots of Tiu Kelep. It's wonderful how this one particular plant thrives under these stressful conditions. Do you know what it's called?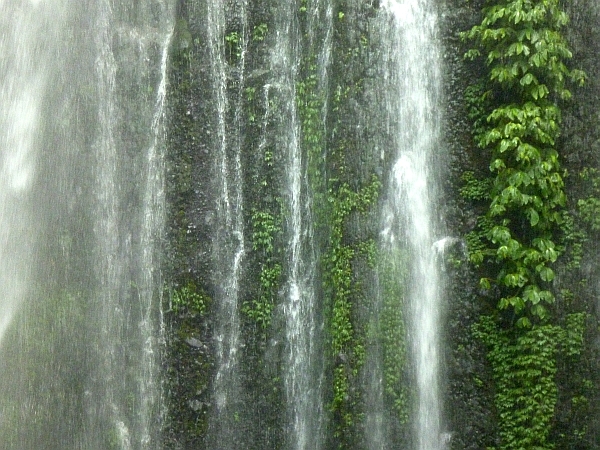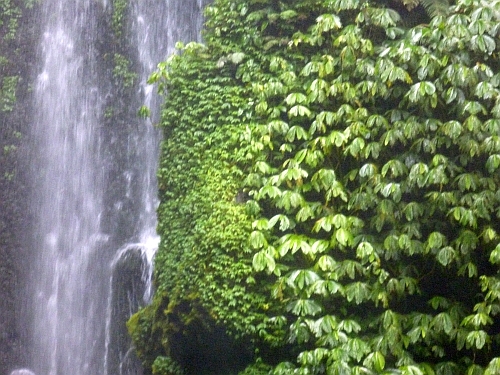 September 21, 2011
Today Lisa and I went on one last walk along the beach in Lombok before taking the ferry to Bali. She took this photo of Pura Batubalong, a small Hindu temple on the coast south of our hotel. It was full of statues, seemingly carved from the volcanic rock available right here: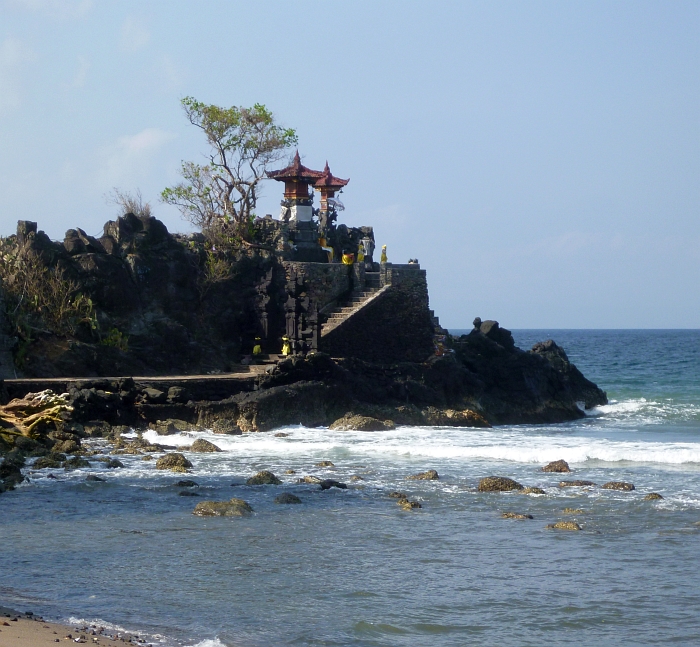 September 24, 2011
Bali has a long tradition of art, and hordes of people making sculptures. The streets are lined with statues, even in out-of-the-way corners. For example, last year I saw these guys near the side of a trail leading into Ubud: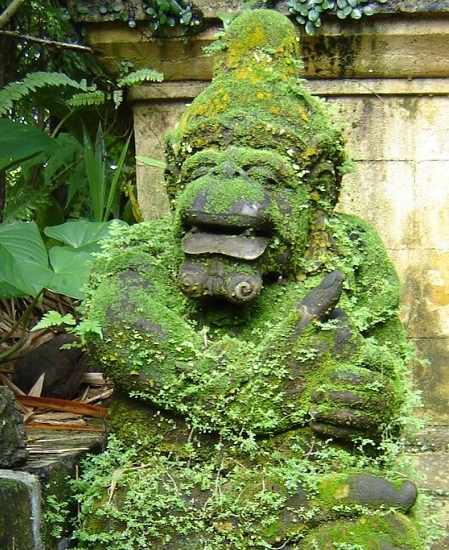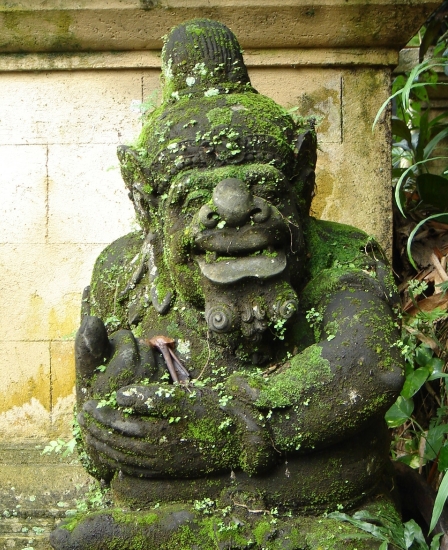 The stores are full of sculptures, masks and woodwork, and you can buy good stuff dirt cheap — especially since 2005, when the second Bali bombing crushed the tourist industry that was just beginning to creep back after the first.

Here's a statue in a restaurant called Bumbu Bali, on Monkey Forest Road in Ubud. It depicts Saraswati, the goddess of knowledge, the arts, and music. She's often depicted standing on a swan, and with four hands holding a book, a rosary of crystals, a pot of sacred water, and a vina - a musical instrument like a guitar. You can see some but not all of that here.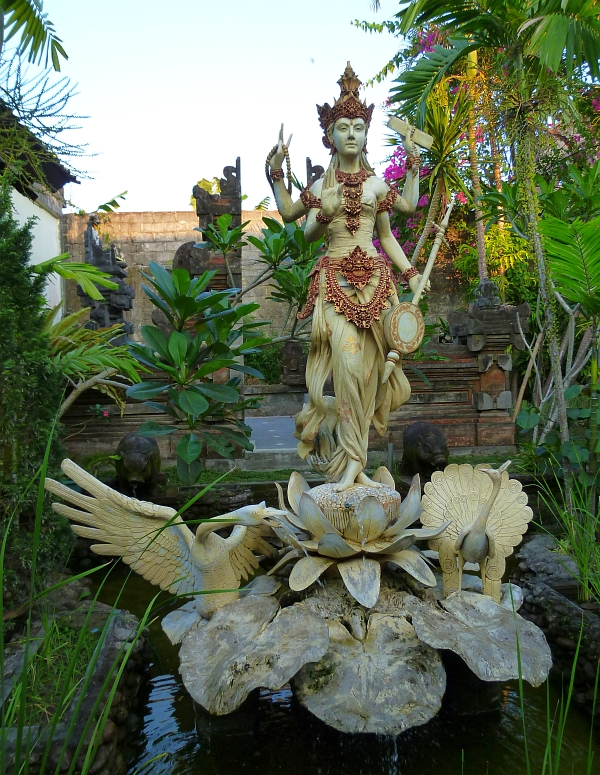 Here's a statue we saw during our last visit to Ubud: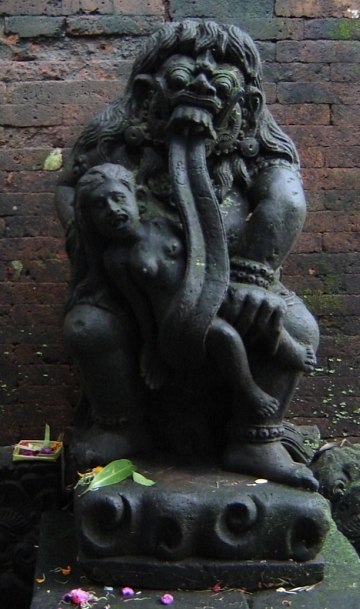 This one was at a Hindu temple in the Sacred Monkey Forest. Besides the long tongue and screaming victim, note the little hand-made tray of offerings at left. Such offerings, in many beautiful variations, can be seen in front of almost every shop or home. People, mainly women, lay them out several times a day. Over on Google+, Nithyanand Rao wrote:
I think this is the demon-king Hiranyakashipu being slain by Narasimha, one of the incarnations of Vishnu. Looks like it anyway.
Sergey Ten replied:
Wow, really different form of culture language — the humanoid "victim" is actually a "demonic" (more like a Greek titan) asur (bad guy), while the animalistic giant is an avatar of Vishnu (good guy)!
Here's an impressive statue of Hanuman at the Pura Dalem Agung Padangtegal, or Padangtegal Great Temple of Death — a larger temple in the Monkey Forest: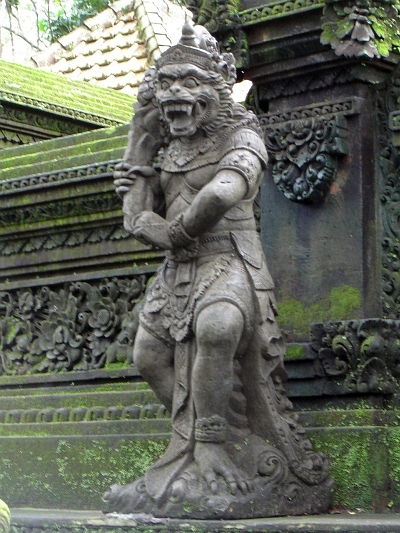 Compare it to this Hanuman mask we bought this year in the town of Mas, close to Ubud, from a woodworker named Ary Puja: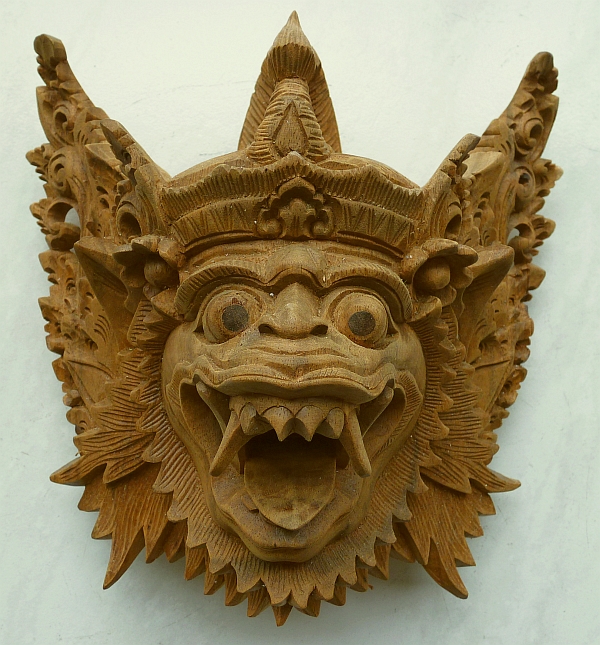 We'd visited Ary Puja last year and bought a sandalwood Buddha and a mask of Barong, which we have over our kitchen door. Barong is scary-looking but good, the King of Spirits in Balinese mythology. Hanuman looks a bit scary as well!
If you visit Bali, please buy some masks or sculpture! You can get great deals if you bargain, and the woodworkers have been suffering ever since the Bali bombings. Ary Puja's house is packed with masks and statues, but nobody had bought anything for a month when we came this time.
---
© 2011 John Baez
baez@math.removethis.ucr.andthis.edu